Delicate Arch – Arches National Park, Moab Utah USA
Arches National Park contains an incredible display of some of the most interesting geologic formations on the planet and as the name implies, many of them are aches. In fact, there are over two thousand natural stone arches in the park.  Probably the most famous arch in the park is Delicate arch, which requires a little hiking to get to, however spending a sunset at the arch is certainly one of the best sunsets you will ever see.
Delicate Arch lies on the edge of a precipice about one thousand feet above a salt valley and can be viewed from either side of the valley, although from the opposite side of the valley you are probably a mile or so from the arch.  Deb and I observed the arch from both sides of the valley, which made for an enjoyable afternoon of hiking, although carrying thirty pounds of camera gear felt like three hundred pounds by the time we were finished.
We first hiked the Delicate Arch Viewpoint trail, which is an easy 1.8 mile loop that gains about three hundred feet in elevation from the trailhead.  The view across the salt valley to the arch is impressive however you will need a long lens to photograph the arch from this vantage point.  This first shot was taken from the natural amphitheatre across the valley from the arch with a 400mm lens.  The little guy in a bright red shirt sitting alone on a boulder looking at the arch makes this shot.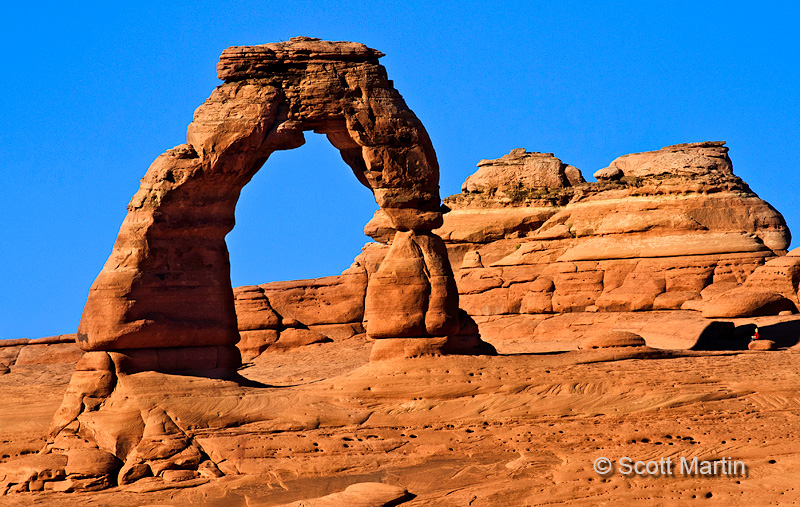 The hike to the base of the arch is a bit more arduous, and climbs about 500 feet over a trail that creates a round trip of just over three miles.  It's an interesting trail in that you don't see the arch until the last few feet of the hike, but what an incredible sight when you come out from walking along a sandstone wall and catch that first view of the arch.  About five hundred feet before reaching the top of the trail, your can see Framers Arch in the sandstone wall that blocks the view of Delicate Arch.  You have to climb up the wall about twenty feet, but viewing Delicate Arch through Framers Arch makes for a good photograph.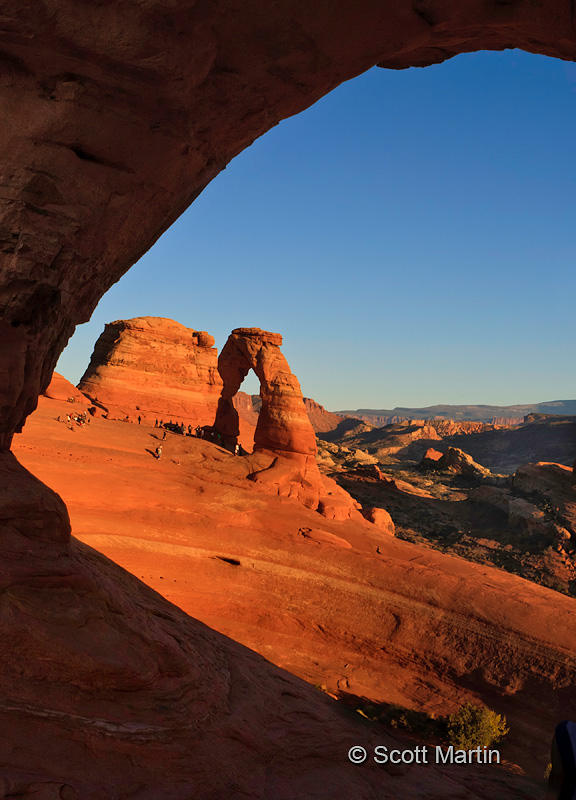 Delicate Arch overlooks a salt valley with the La Sal mountain range in the back ground.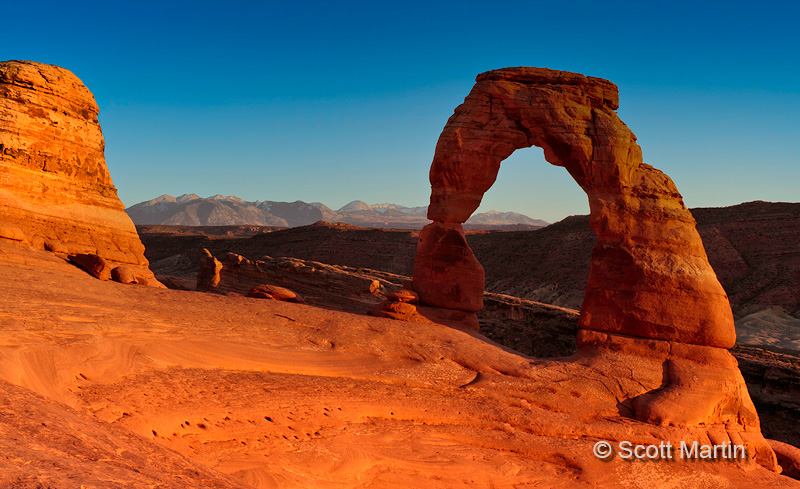 As the sun goes down over the horizon the natural red rocks take on an amazing colour.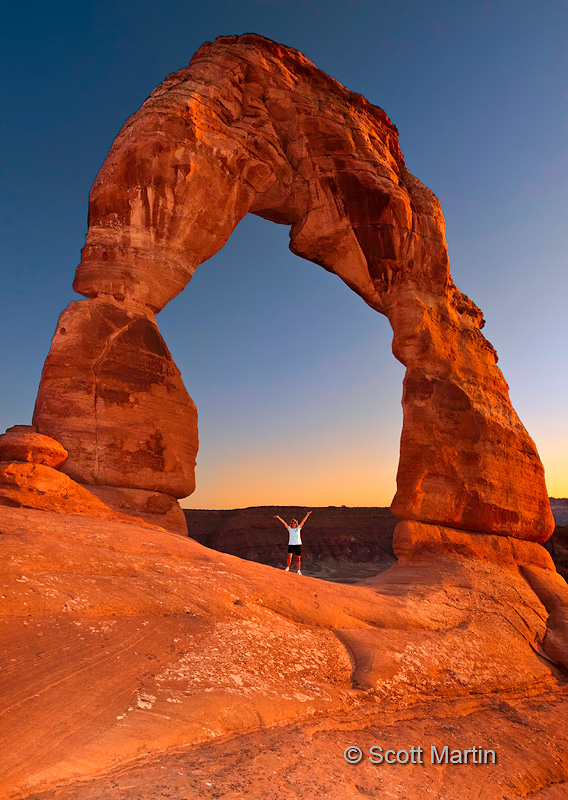 Sunset at Delicate Arch.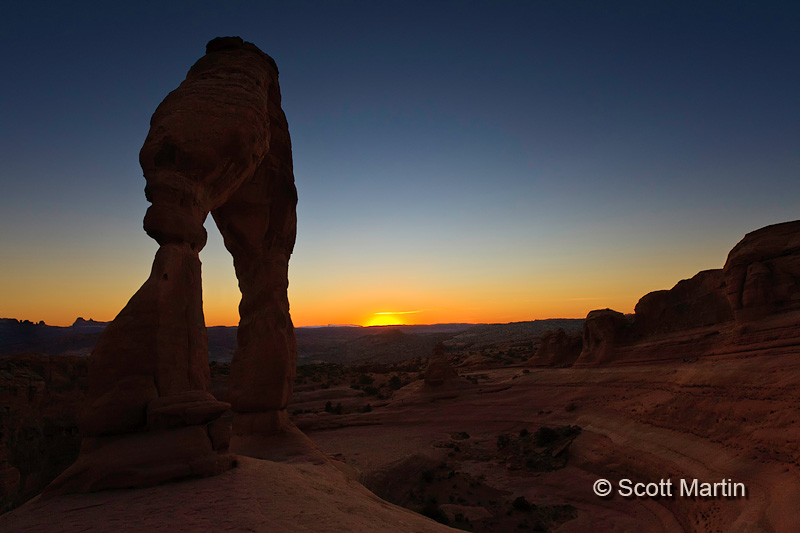 .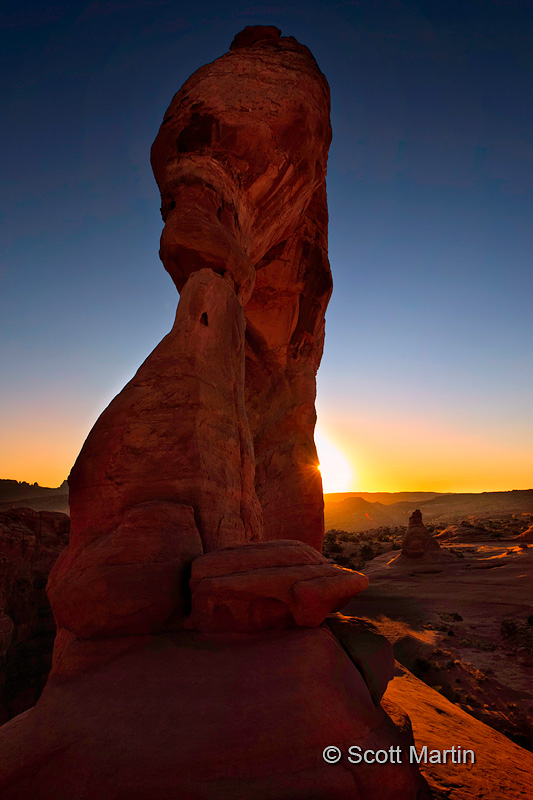 .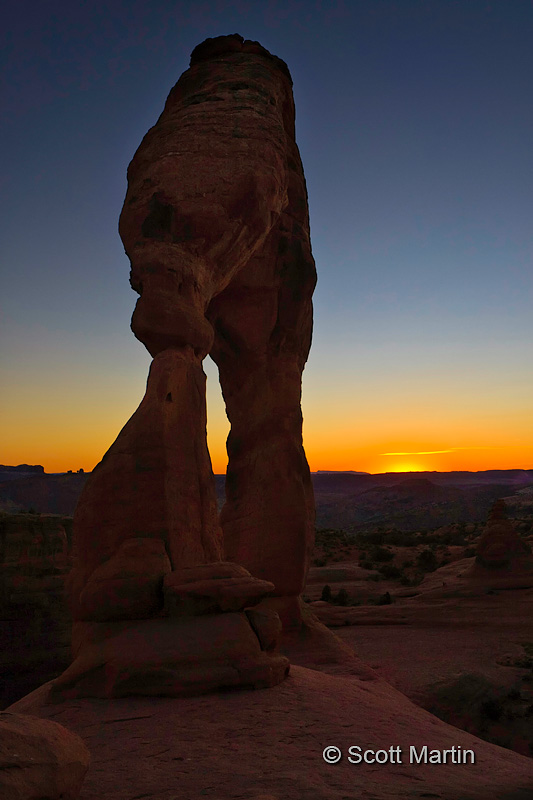 Seeing the Delicate Arch was one of the many highlights of our trip to the canyon lands area of the States and I trust these images encourage you to make the trip!