Common Loon Family in Algonquin Provincial Park, Ontario
Over the past few years Deb and I have spent many early weekend mornings in June travelling about sixty kilometres from the cottage to Algonquin Provincial Park and then paddling a couple of kilometres in order to observe and photograph the Common Loon.  June is typically the month that Loons are nesting and for the first few days after the chicks are born they spend a lot of time on their parent's back providing a very desirable photo opportunity.
Loons are an amazing bird God designed to live on the water.  They have solid bones and legs that are positioned far back on their bodies allowing them to dive and swim underwater with incredible speed and agility at recorded depths of more than 120 feet.  Their design is so tailored to water that they are quite dysfunctional on land where they can only move around by a hopping and pushing themselves on their chest.  They are unable to achieve flight from the ground and are only on land while nesting for the 26-31 day incubation period before their eggs hatch. Both parents share in the incubation responsibilities. Loons build their nests on the water's edge so that they can gain access to it direct fly from the water and the young chicks can easily transition to the water; which they do the day they are born, never to return to the nest.  Below is a typical nest located on a small 'island' not much bigger than the nest, located about twenty feet from shore and creating an important barrier to protect against predators.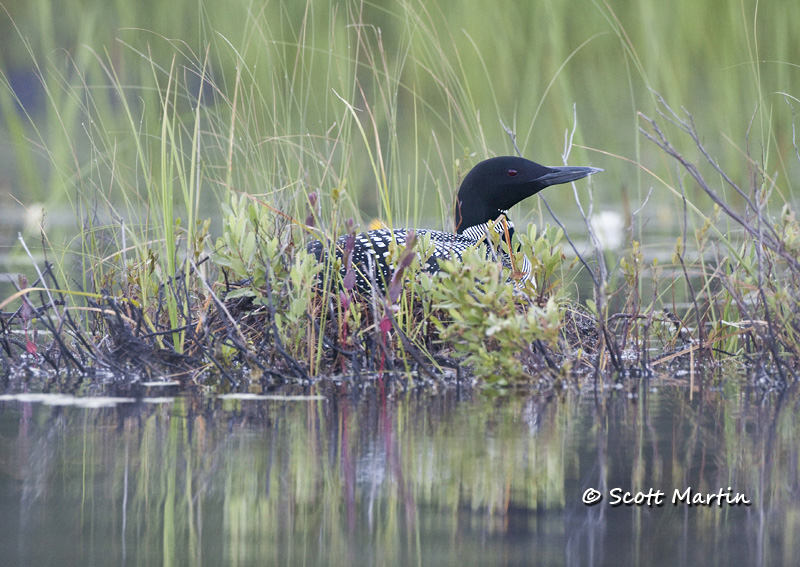 As the Loon chicks move onto the water within hours of their birth, their small size and lack of development requires that they spend much time on a parent's back for the first week of life.  This allows them to rest and keep warm. They also float around on the water, always within a few feet of one of the parents.  The parents keep within sight of each other and attend to the young by bringing small fry to them on a seemingly systematic schedule.
They are a pleasure to watch, and the effort required to see Loons up close is always worth it.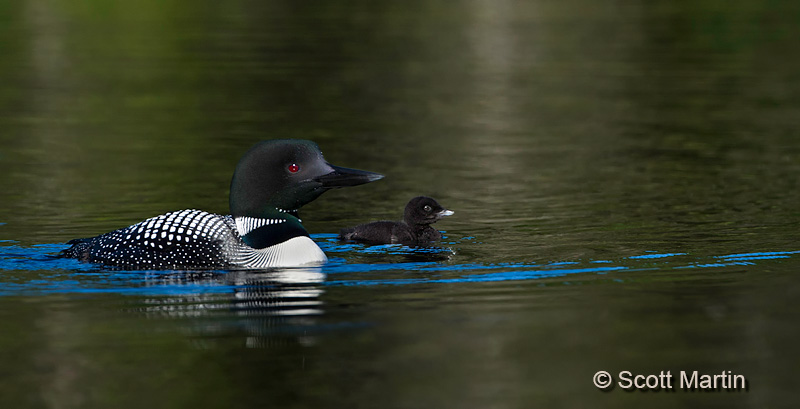 .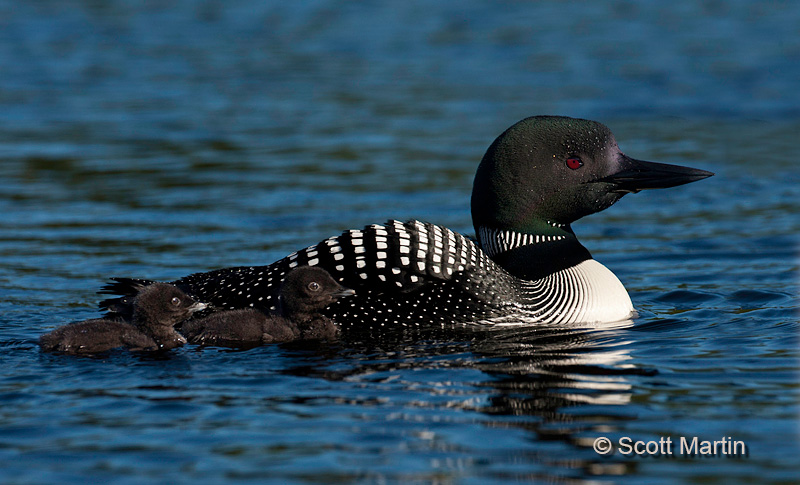 .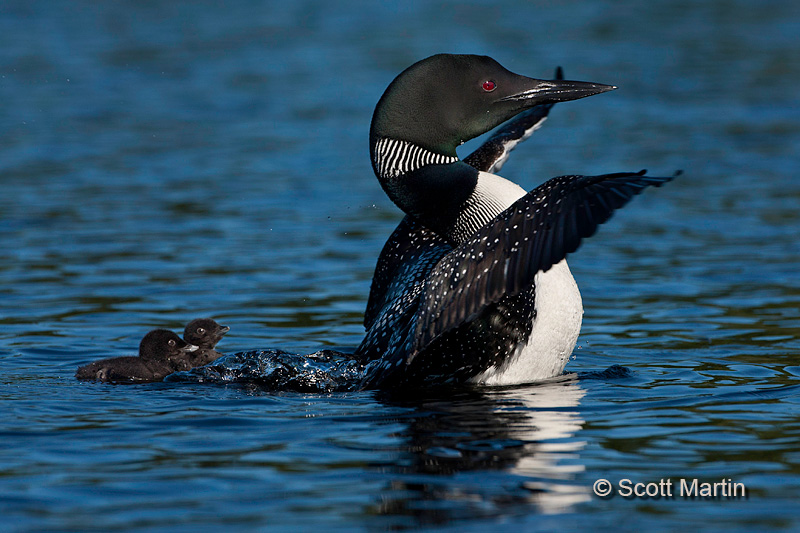 Watching the young chicks get fed is the prefect time to see the special bond between parent and offspring.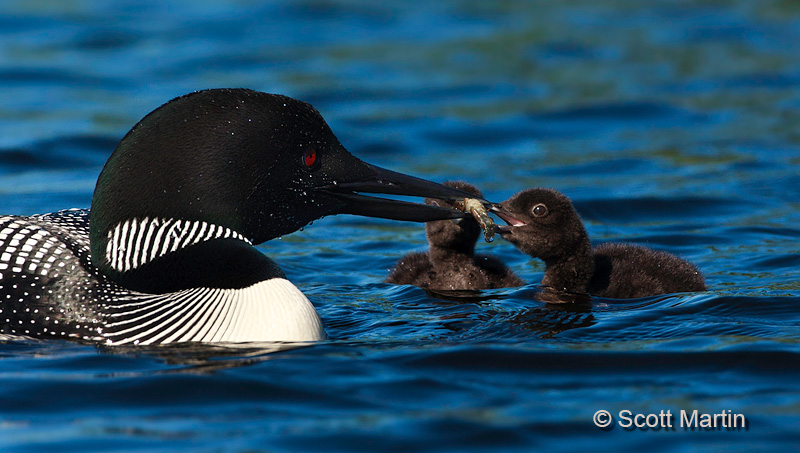 .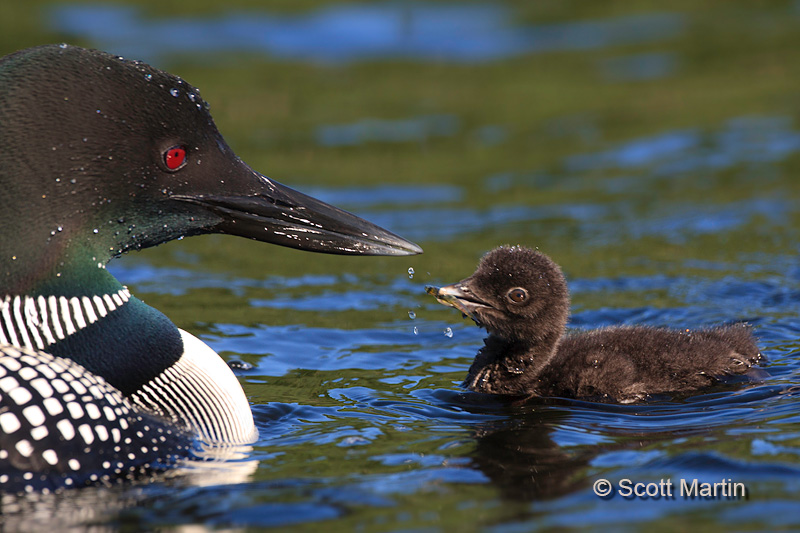 .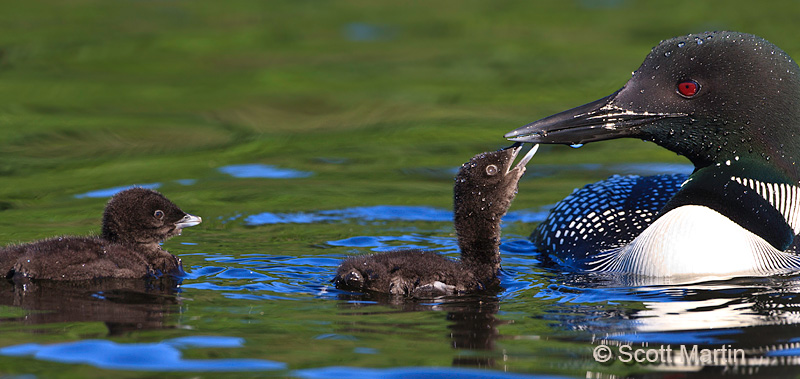 .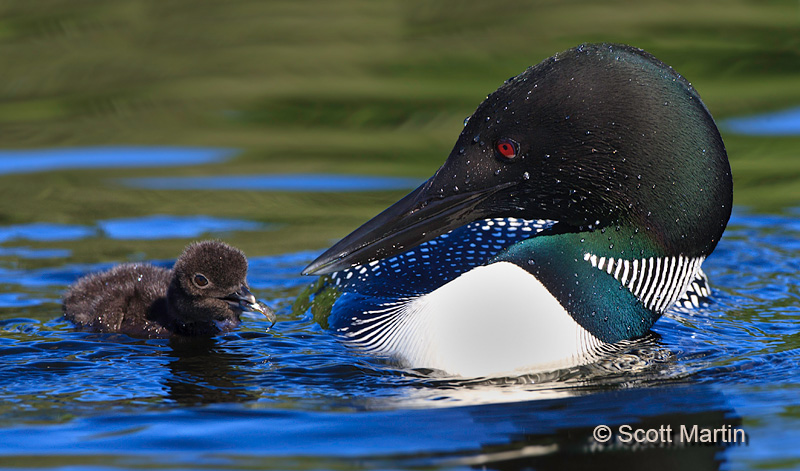 .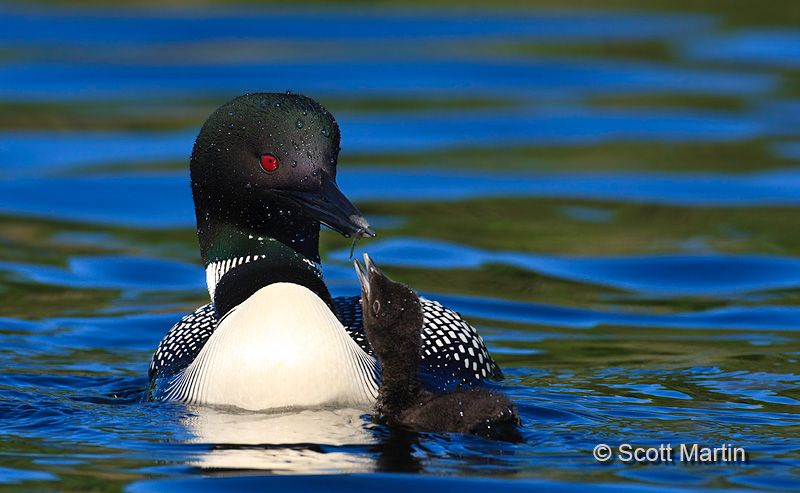 .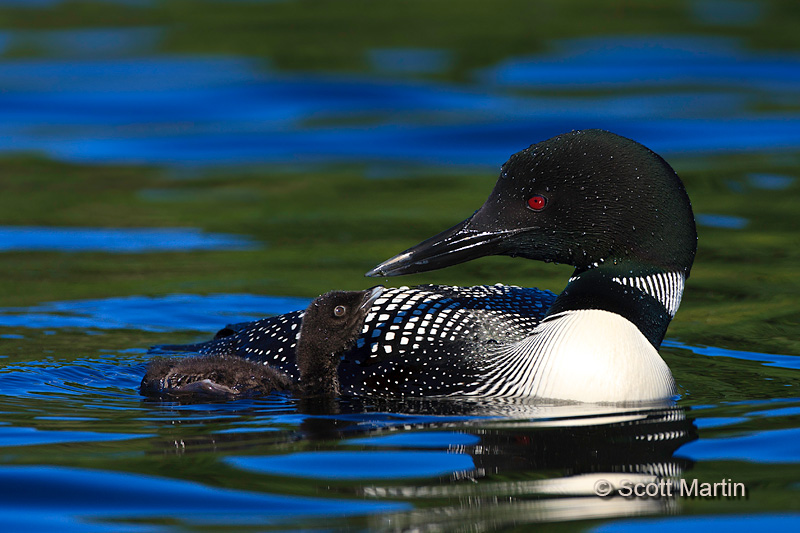 To see the chicks resting on a parent's back and being sheltered, warmed and protected under a wing was something we'd been hoping to see for the past number of years so the following images are among our all time favourites.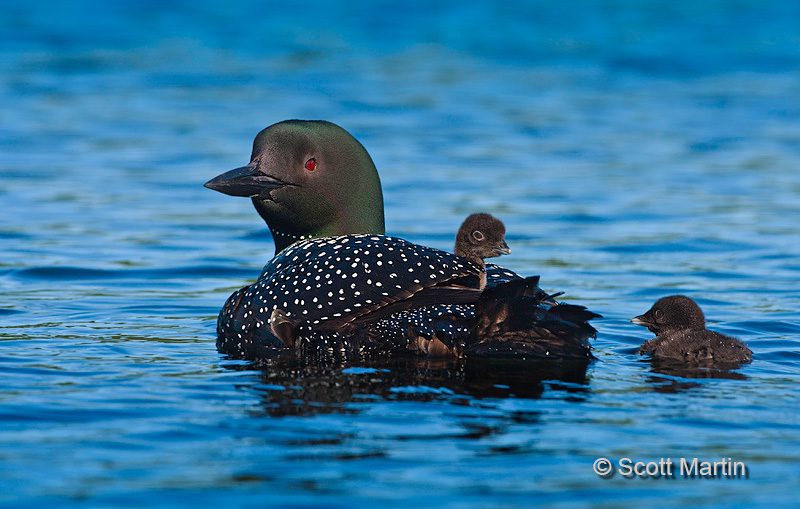 .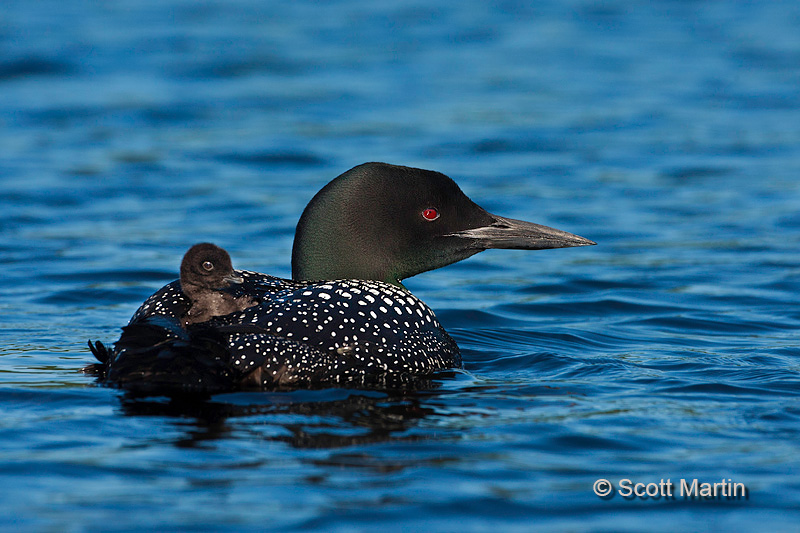 One of the chicks launching off mom's back.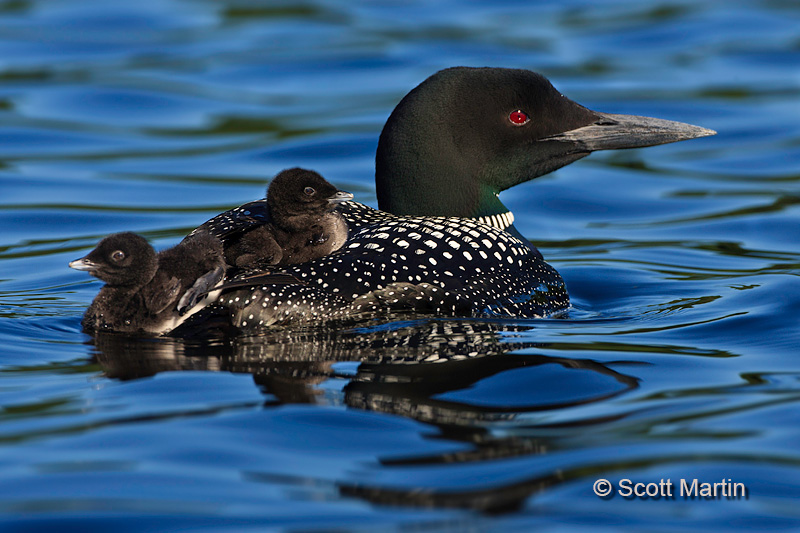 .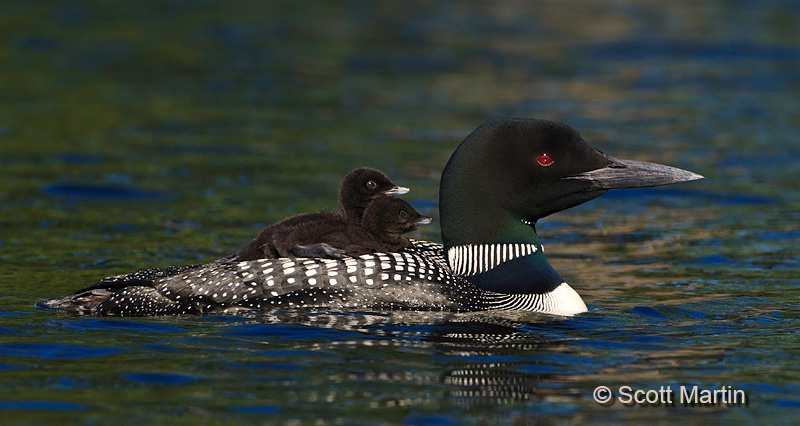 .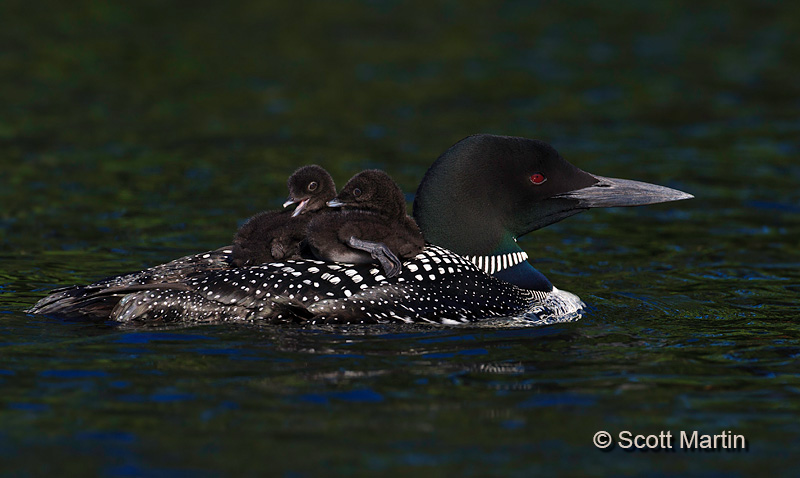 .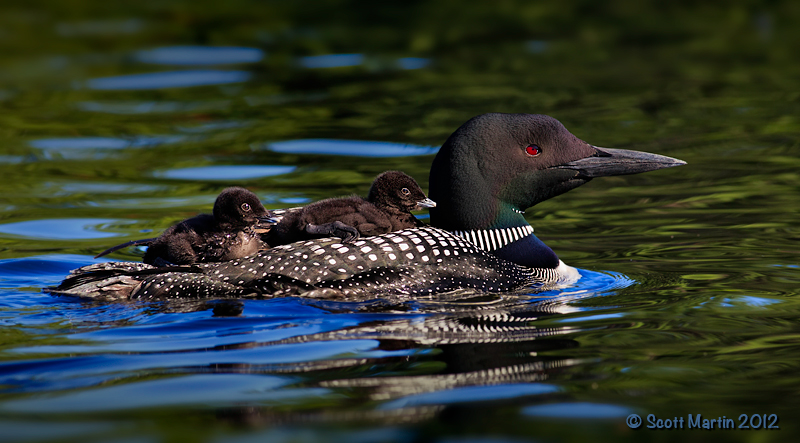 "Hey some day you will be able to do this too"!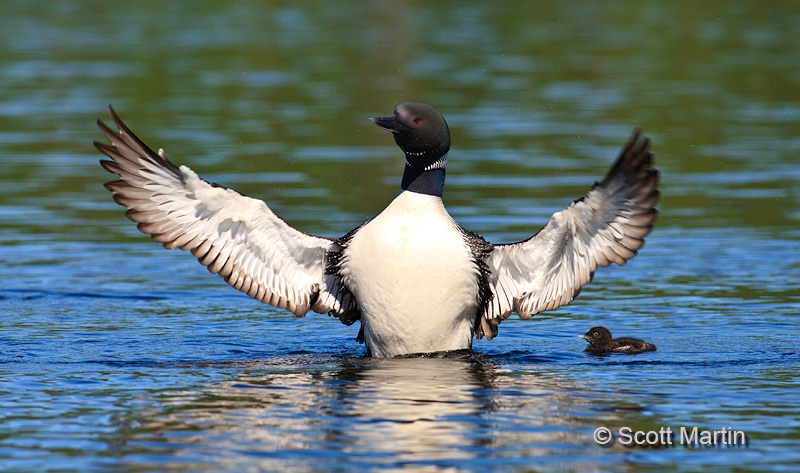 Family shot.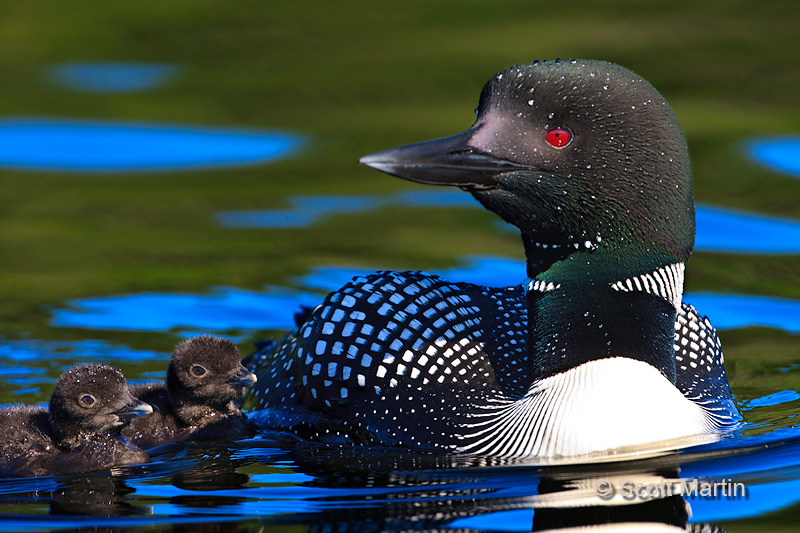 Although it's a bit precarious taking lots of expensive camera gear in a canoe and quite a challenge to photograph from one, there are not many other ways to get close to Loons. All the images in this post were taken hand-held from a canoe with either a Canon 1D MK III & EF 500mm f4 L IS lens or a Canon 5D MK III and EF 400mm f5.6 L lens.  I must thank Deb for single-handedly paddling and positioning the canoe so that the light was always right as we followed these Loons for about three hours.  We are a great team but she does all of the work while I snap pictures!
If interested, more images can be seen in the Loons & Grebes Gallery
Please take the time to leave a comment as they are always appreciated and if you have any questions please don't hesitate to ask.