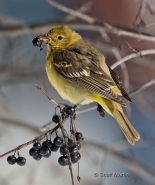 Western Tanager
Once again it is hard to believe that another year has quickly slipped by and we are heading into 2013 in just a few hours.  Its been an exciting and busy year for our family yet we are looking forward to what awaits us next year.  It has been an unusually long time since our last blog entry but hopefully as I get caught up with all the image processing that seems to clog up the Photoshop 'in-basket' the posts will become more frequent in the New Year.
For the last couple of weeks our city has been home for a bird that is very rare in this part of North America, the Western Tanager.  Yesterday I was able to catch some shots of her in good light on relatively clean perches; both of which are great joys for a bird photographer!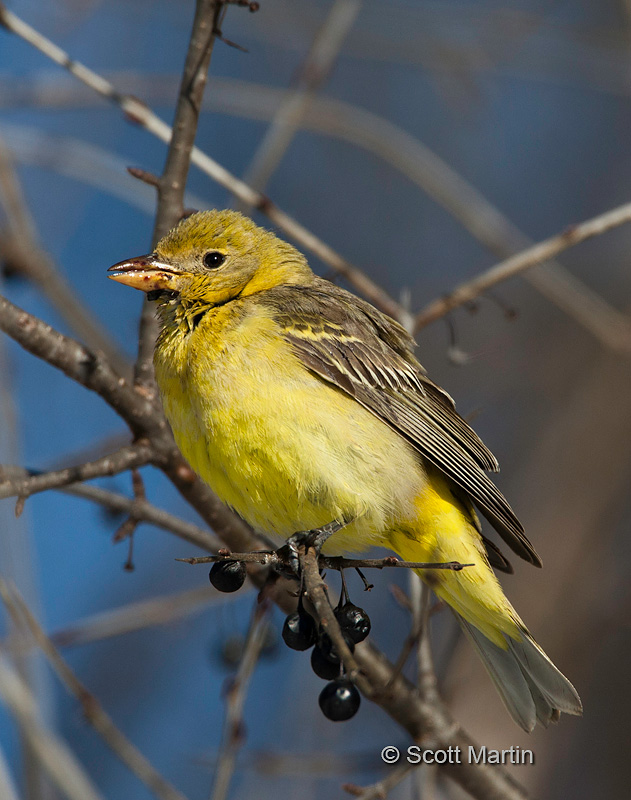 The Western Tanager is a fairly small bird generally about six inches long and weighing an ounce!  They live on the North American west coast and migrating to South America for the winter. They are rarely seen east of the mid western States so when one shows up in Ontario it creates a lot of interest in the birding community with many people travelling hours to catch a glimpse.  Fortunately this bird is less than five minutes from our house.  Western Tanagers have bright yellow bodies with darker backs and their wings have two wing bars, an upper yellow bar and lower white bar which you can see on the image above.  The male has a bright red head while the female's is an olive-green colour.  The following image also shows the distinctive wing bars.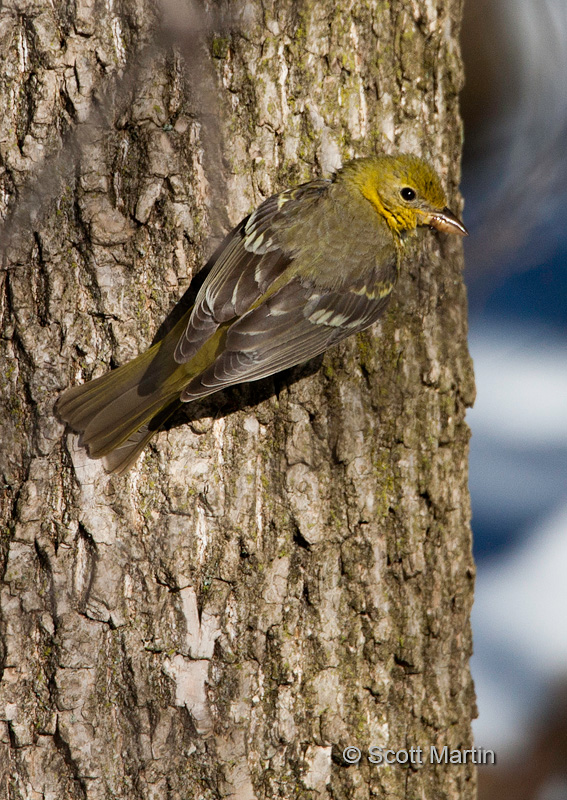 The Western Tanager typically feeds on berries and small insects, which it forages for on tree bark (as above) or, like swallows can catch in mid-flight. Given the cold weather & snow it is surprising this bird is staying around, however there are lots of berries in the area she is staying and given the fact she is thoroughly lost and on her own, she may not know which way to head so will choose to winter here as long as food is plentiful.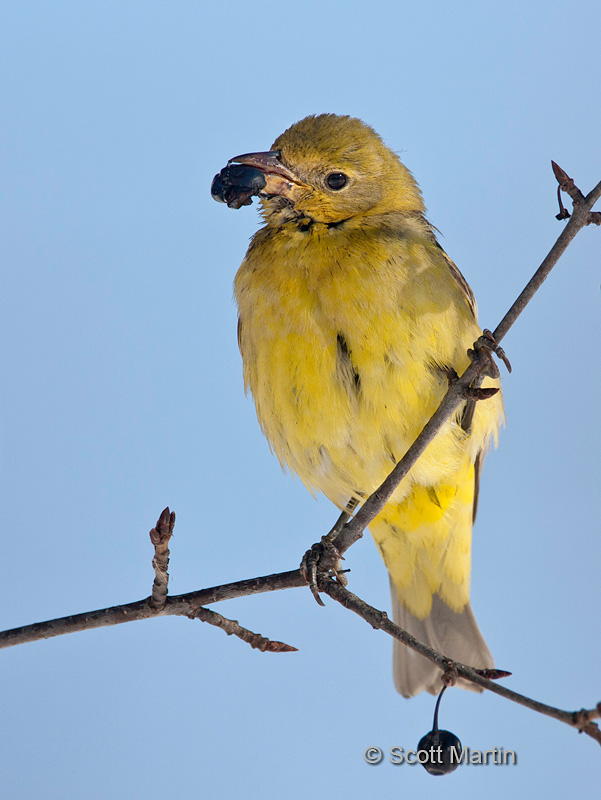 .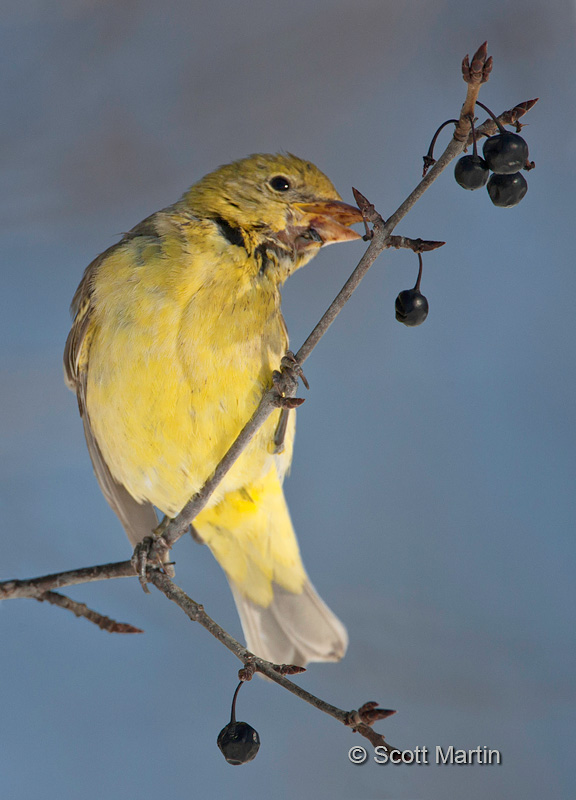 .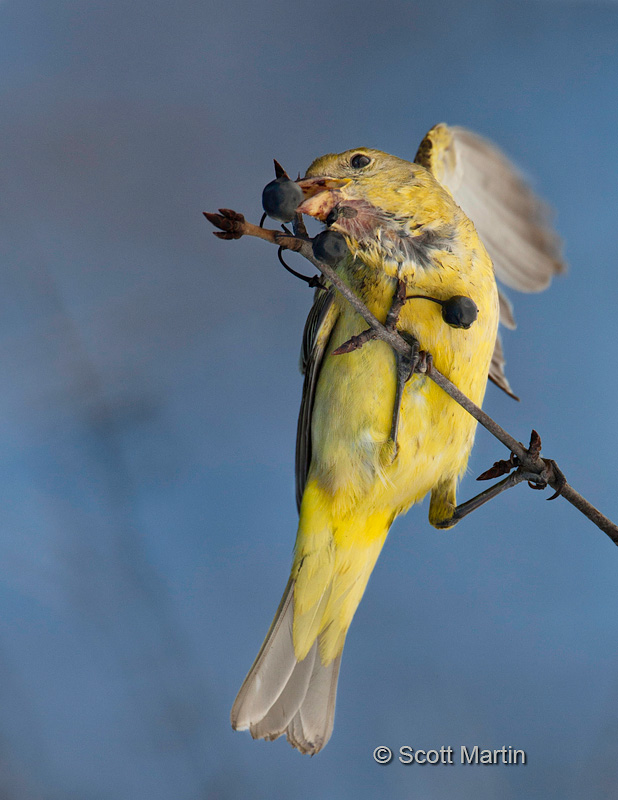 From a photography point of view, back grounds are almost as important as the subject in terms of getting the best photographic results.  A nice perch and uncluttered back ground is generally the goal however almost impossible with the smaller songbirds which are usually foraging in bushes low to the ground.  This Western Tanager was very cooperative and gave some good poses against a clear sky. Its imperative that you get the right exposure on the bird when shooting them against the sky and that typically means over exposing what your camera meter indicates by one or two f-stops.
The last two images have busy back grounds however show the bird in a more natural environment doing what she does as much as she can, relaxing in the sun in a location sheltered from the wind and then enjoying another berry.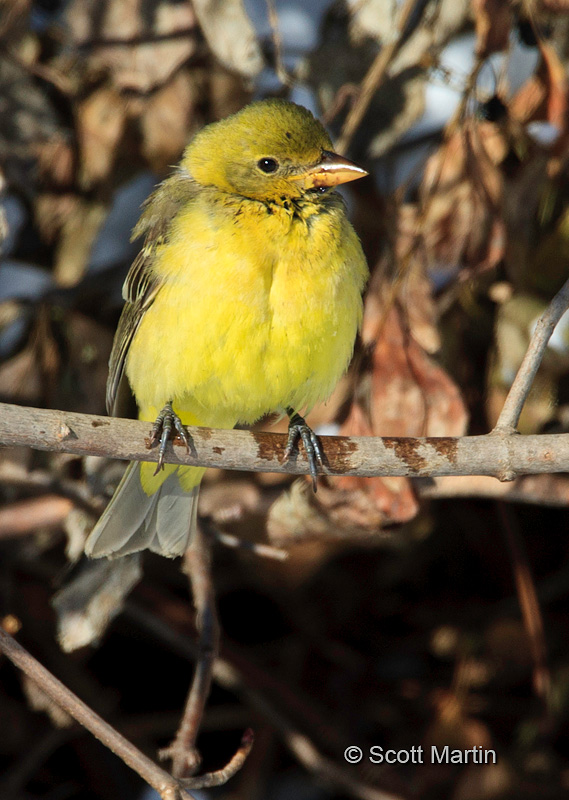 .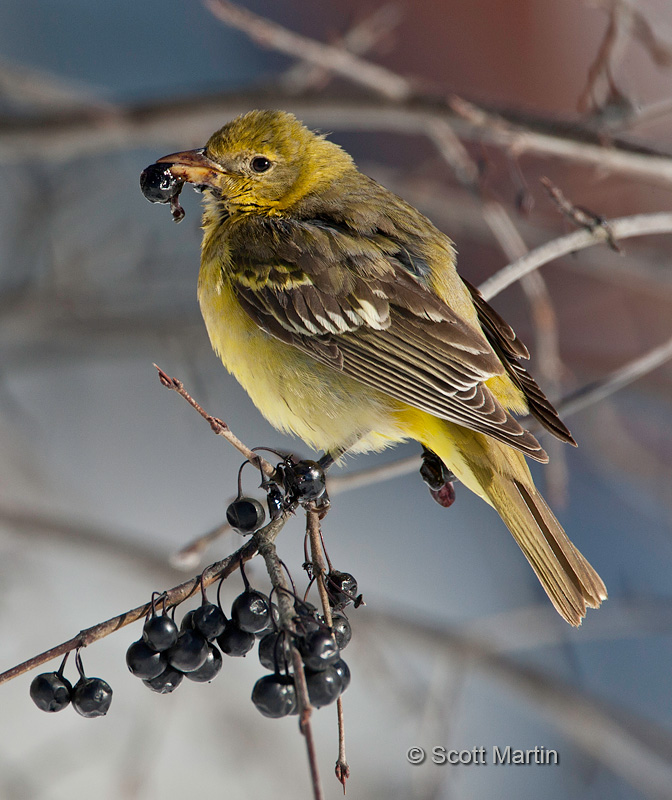 All of the images above were taken with a Canon 1D MKIII and 500 mm lens + 1.4x TC mounted on a Jobu monopod with a Jobu Jr. gimbal head.
Thank you to all my many friends who have taken time this past year to drop by and check out the website.  Thanks also for your comments and questions which are always appreciated. To everyone, Deb & I wish a very Happy New Year and I look forward to hearing from all of you in 2013.
UPDATE January 3, 2013 – I'm sad to report that this bird was found dead yesterday in the park it had called home for the past couple of weeks. Not certain of the cause however it may have succumbed to the cold weather.