Painted Buntings at Merritt Island National Wildlife Refuge, Florida
While in Florida this month Deb & I spent a couple of days visiting Merritt Island National Wildlife Refuge on the Space Coast of Florida.  Actually Merritt Island is the Space Coast as the Wildlife Refuge shares the island with NASA.  We were fortunate to see and photography a number of different birds on the refuge including Scrub Jays, Northern Shovellers,  Greater Scaup, White Pelicans and the subject of today's post, Painted Buntings, which neither Deb nor I had ever seen before.
Painted Buntings are native to North America and generally noted as our most colourful bird.  This makes identification of the male Painted Bunting very easy, even though not many get to see them.  The female, although more uniform in her yellow green colour, is also easy to identify as they are the only all green bird found in North America.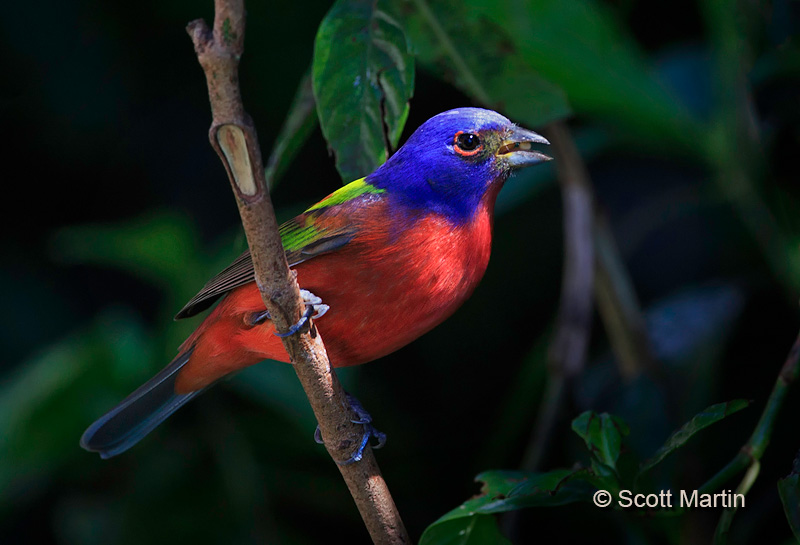 These beautiful buntings are from the same family as the Cardinal and the three pairs of Painted Buntings we observed were foraging for seeds with a Northern Cardinal pair. The buntings are a little smaller than the cardinals.  Painted Buntings are mostly found in dense thickets and shrubs and are relatively hard to find birds that don't often provide for nicely perched photographs.  You need to be fast, prepared and fortunate to get a good shot.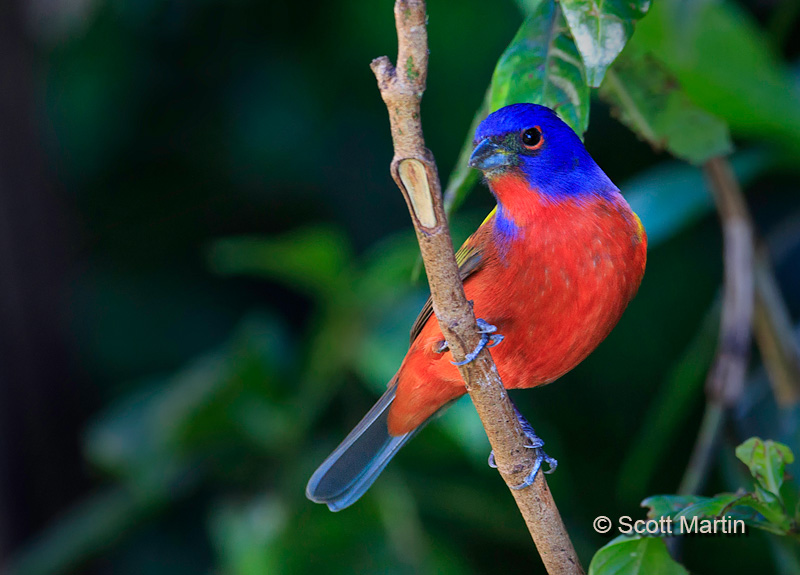 Painted Buntings are found the southern American States and into Central America.  Their numbers are on the decline with an estimated 60% reduction in population over the last fifty years. This has been attributed to factors including egg destruction by Brown Headed Cowbirds, urbanization of the riparian habitat they enjoy (transition vegetation between rivers and forests) and climactic change. Although illegal, male Painted Buntings are sometimes trapped, caged and sold as pets which has also reduced their numbers. The Painted Bunting is listed as 'Near Threatened'.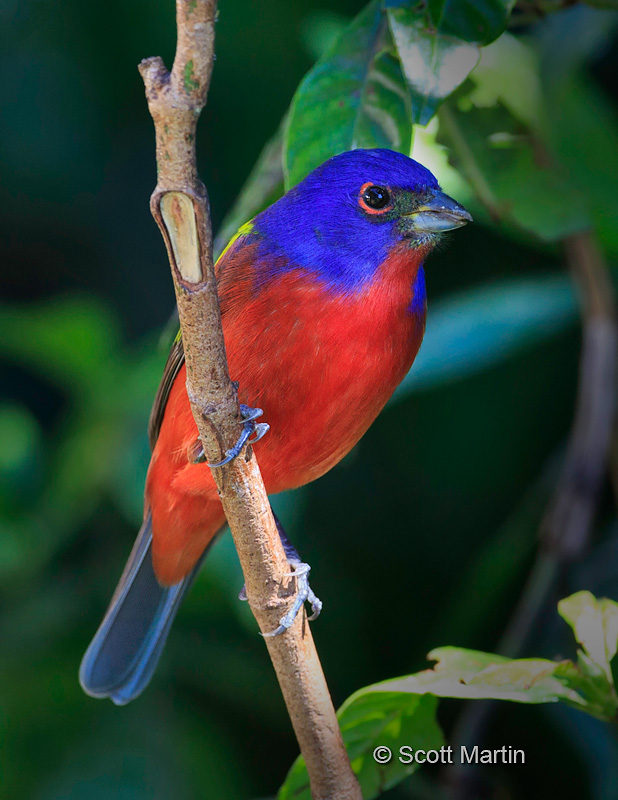 As mentioned earlier the female Painted Bunting is green in colour (a unique distinction for North American Birds) which makes it perfectly camouflaged for its chosen environment.  They are easy to hear but difficult to spot as the next couple of images illustrates.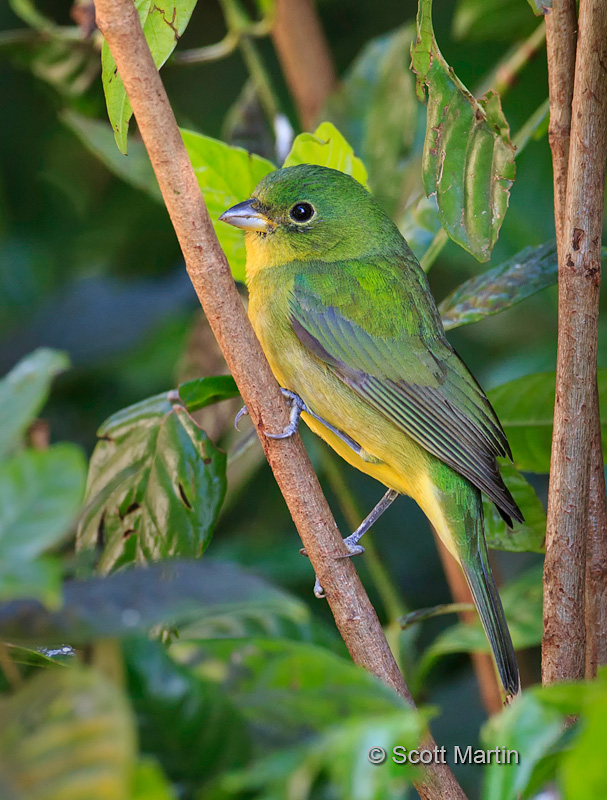 .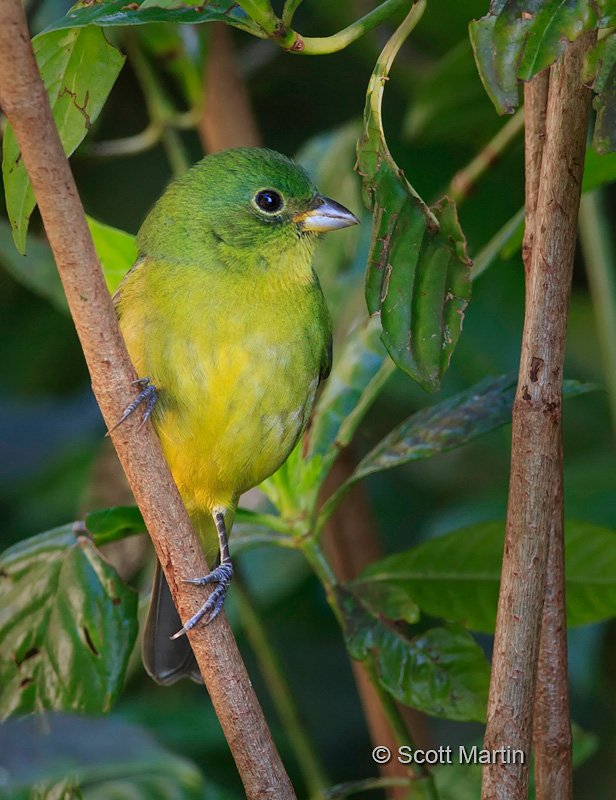 Painted Buntings often forage for seeds along the ground as seen in this last image, which although not a great shot, does show the bird's many colours and that it truly deserves its reputation as the most colourful bird in North America.   Often times bird photographers just get lucky (or have been prepared and given the opportunity enough times) even while 'breaking' all the rules of good photographic technique.  This shot is one of those times as it was a single frame taken hand held, looking down at the bird using an aperture of f/4 and shutter speed of 1/250 sec with a 500mm lens.  I wont take the time now to explain why, but if you are a photographer you will know that this shot could be attempted a hundred times and would be blurry and out of focus ninety nine of those times.  There must be some truth to the old adage of it being better to be lucky than good!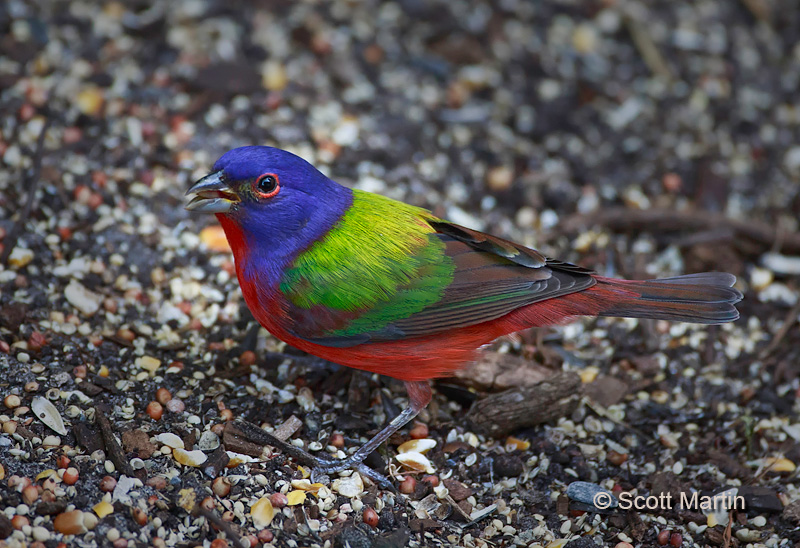 All of the images in this post were taken using a Canon 5D MkIII body and Canon EF 500mm IS L lens.