A Painted Bunting, Green Heron and Black Skimmer
Todays post will only contain three different birds, however all three have stories and images that I trust you will enjoy.
The Painted Bunting is arguably the most colourful North American bird with its vibrant red, yellow, blue and green colours. It is a relatively common bird found in South-Central and South Eastern ares of the United Sates and into most of Central America. It's a bird that is not often seen as it prefers the cover provided by thickets and underbrush although it does frequent back yard feeders for seed. It is such beautiful bird it is sometimes trapped and sold in Mexico & the Bahamas as a caged bird. Fortunately this practice is illegal in the United rates. For the last few years Painted Bunting have wintered on Merritt Island and these next two images of a male were taken there in March of this year.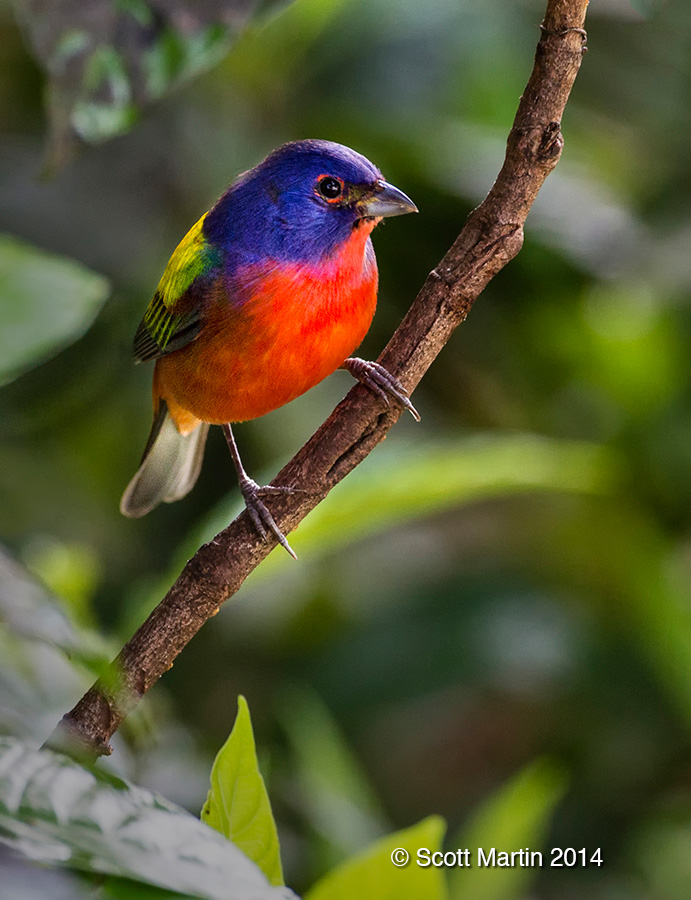 .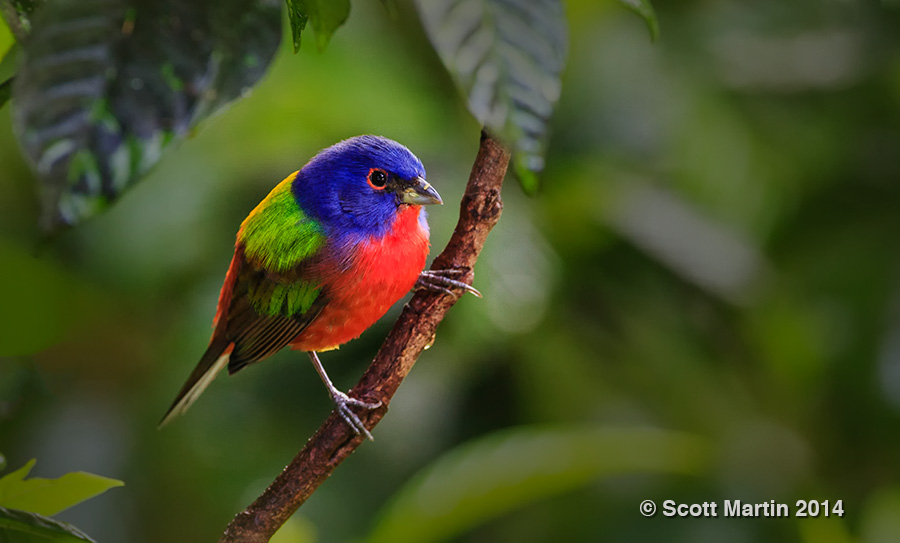 The All-American couple with a feeder to match!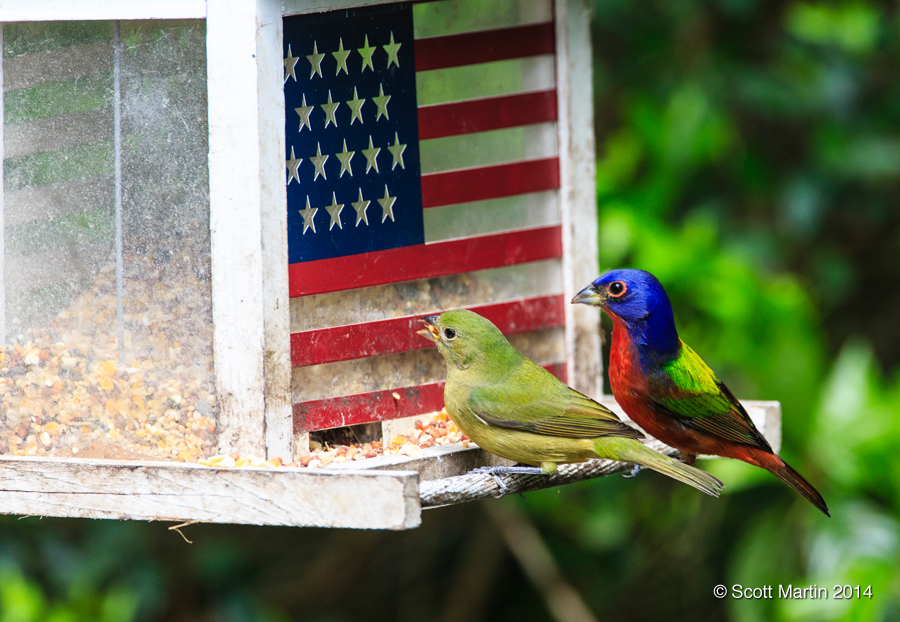 You can see other Painted Bunting images in the Sparrows, Grosbeaks, Buntings & Finches Gallery.
Approximately thirty miles south of Merritt Island you can find the Viera Wetlands which is a favourite location for bird photographers while visiting the Space Coast of Florida. The Viera Wetlands are home to hundreds of species of birds and the topography of the area makes it possible to get quite close to the birds if you are patient. Of the many Heron species, the Green Heron is one of my favourites. Although not a large bird its feather colouring and detail is impressive. They tend to stay in heavy reed cover at the edges of swamps and marshes where they stealthily hunt small minnows and fry that unknowingly swim under their perch. This year it was  a pleasure to see a Green Heron fishing and a pleasant surprise to be able to photograph the action. Deb & I watched this particular bird move throughout the reeds for about thirty minutes until we actually saw him capture his prey.
Posing for the camera!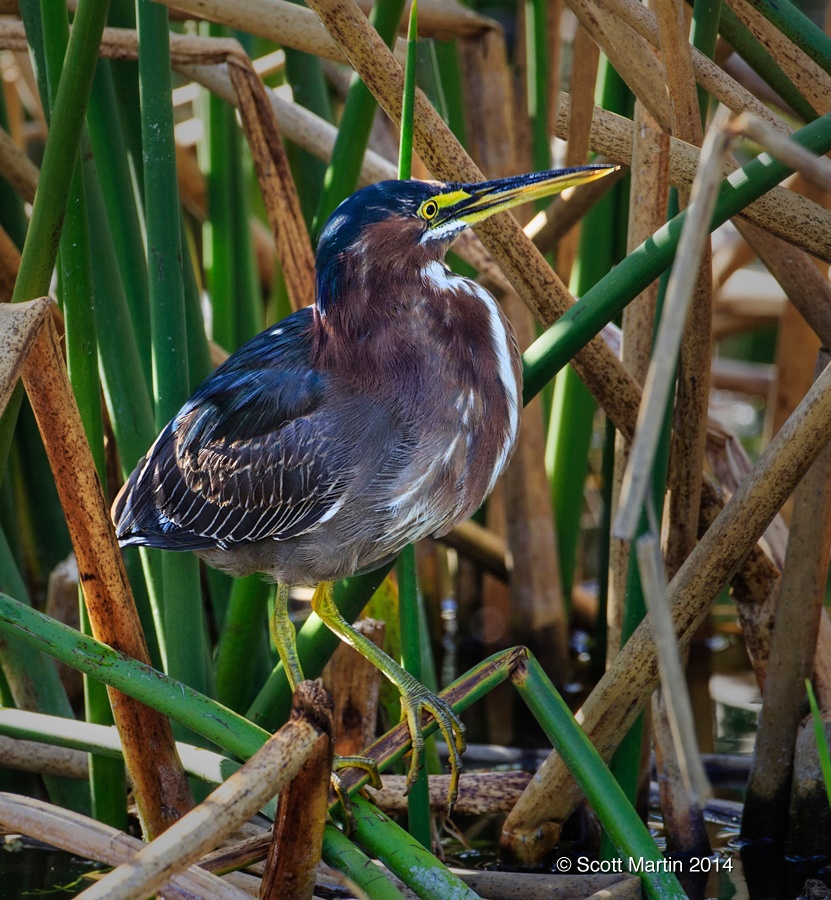 Intently looking for lunch.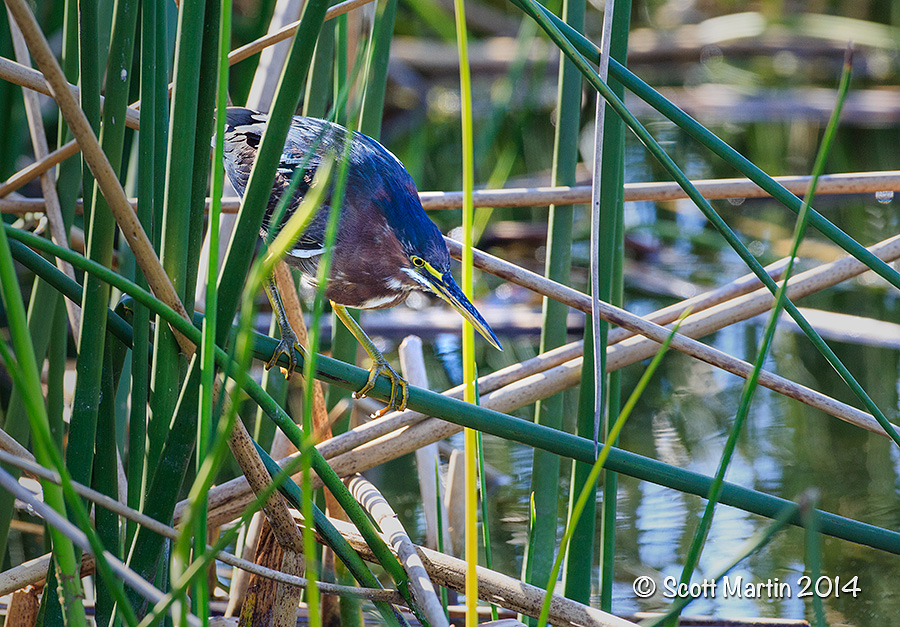 Having a closer look.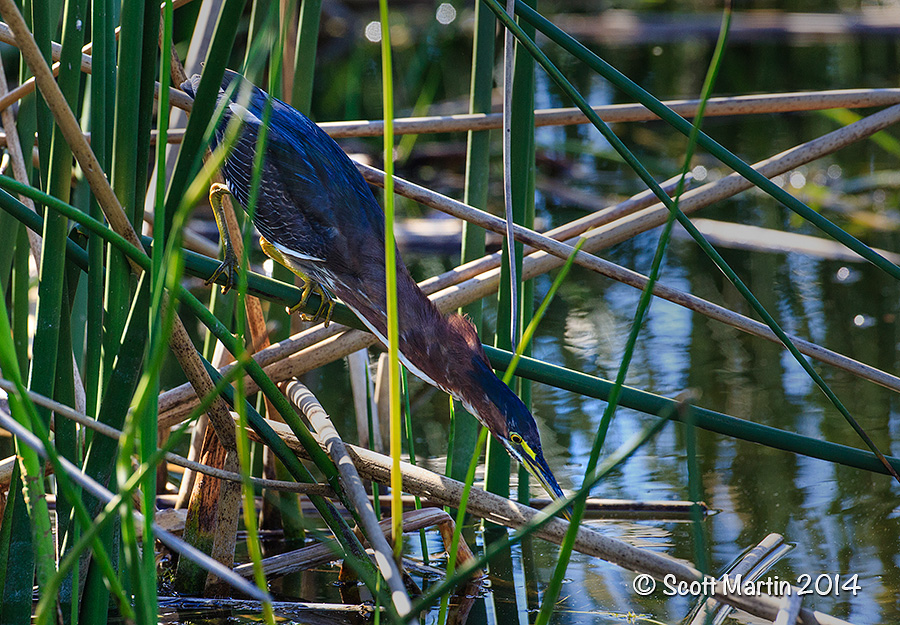 Taking a stab at it.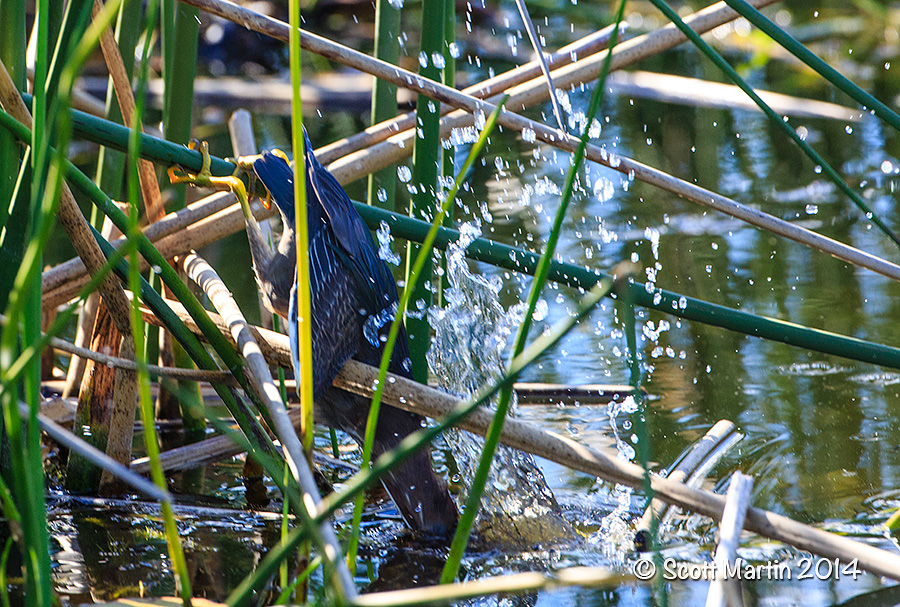 Success!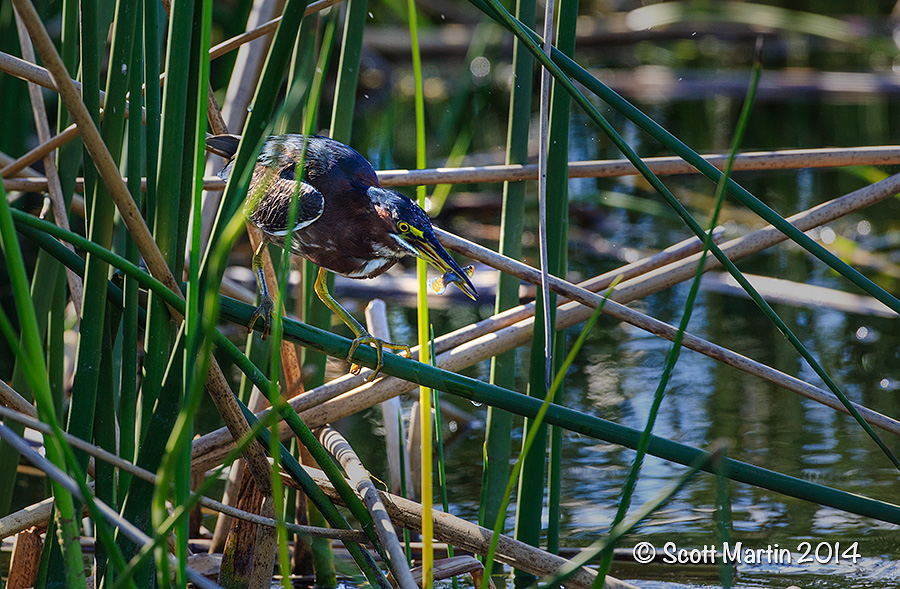 The last bird in today's post is the Black Skimmer, a common bird with a most uncommon beak. In fact, it is like none other bird in North America as the lower mandible is about half to three-quarters of an inch longer than its upper mandible. A most unique design that makes digging for worms or picking berries next to impossible, yet is perfectly designed to do what the Black Skimmer was made to do….skim along over the calm water with the extended lower jaw just below the water's surface and extracting food from the water as it travels up into the mouth of the bird before exiting in  a stream of water from the base of the mandible.
Although Deb & I have watched skimmers skim in the past, it was not until this year that we were able to take some decent photographs of the action. So it was a great experience that was only heightened by the fact that they were about ten years in the making!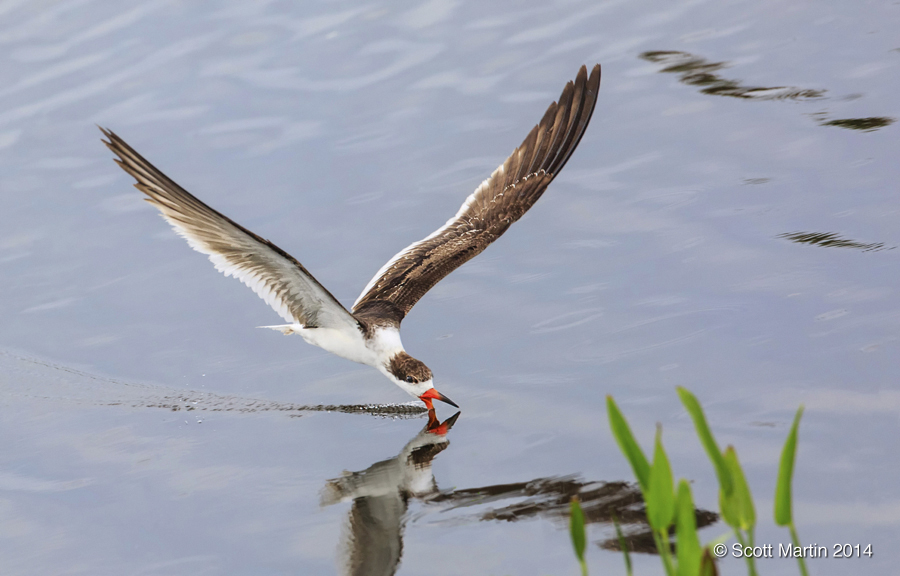 X marks the spot.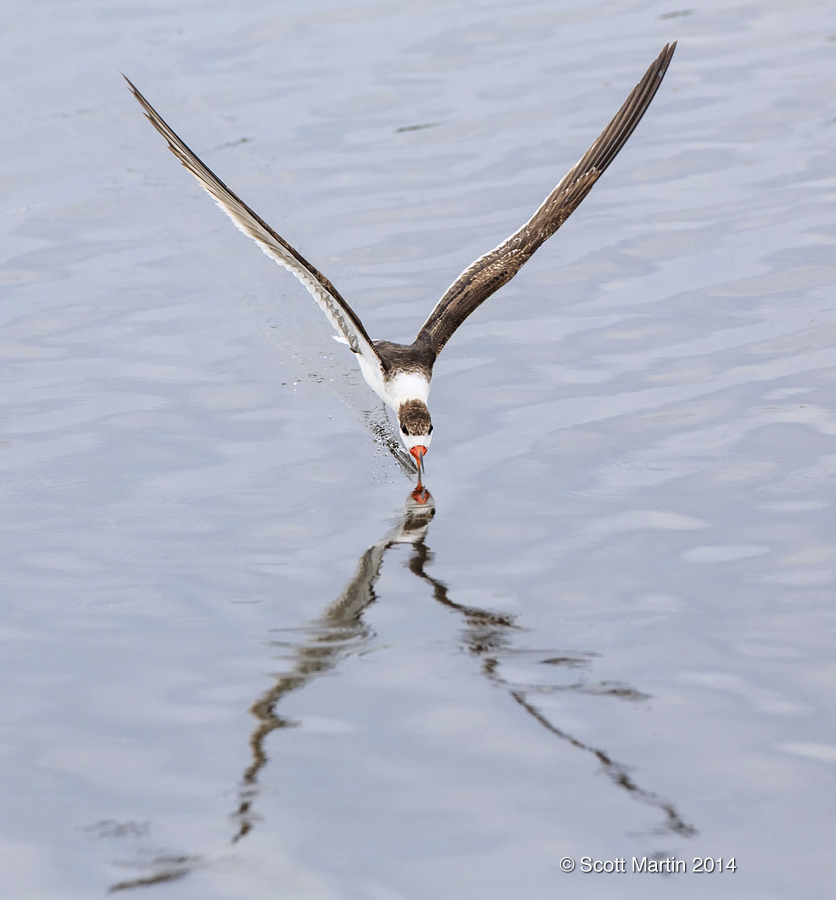 .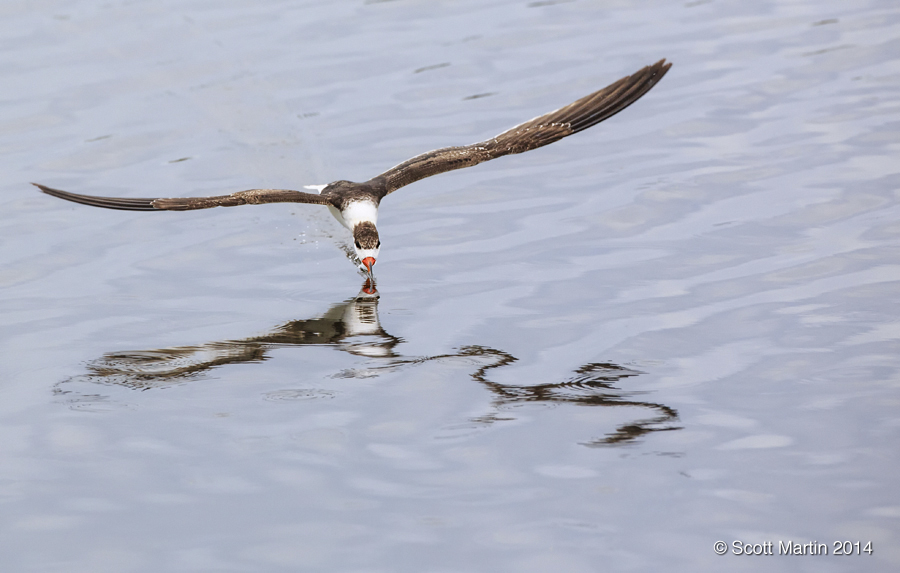 .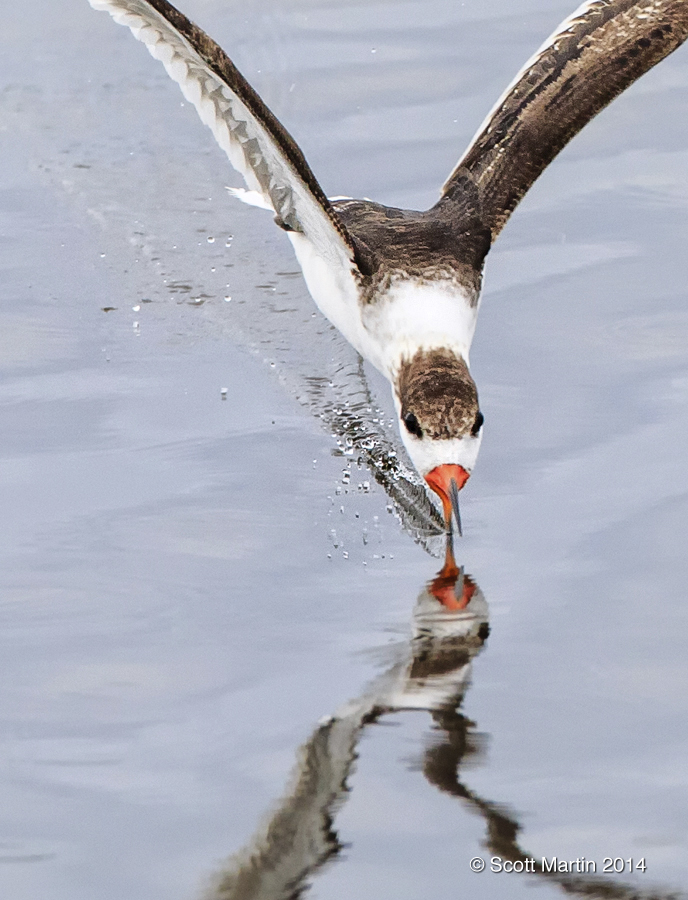 This last skimming image was taken in the rain and in a different location that provided a dark back ground, not ideal for isolating the Black Skimmer from the back ground but nevertheless creates an interesting result.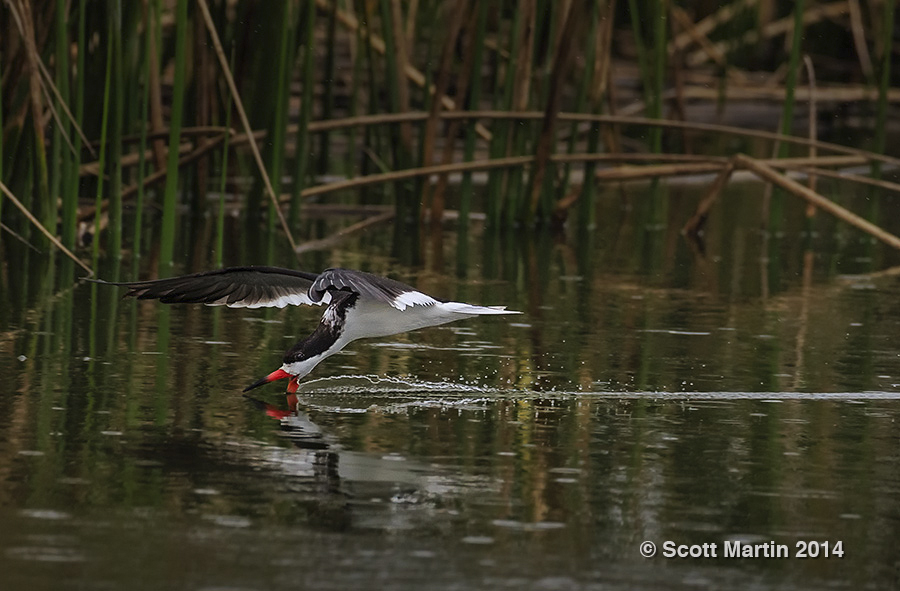 A number of other Black Skimmer images, including close up pictures of the unique mandible and normal in flight images can be seen in the Gulls, Terns & Skimmers Gallery.
All of the images in today's post were taken with the Canon 5D MK III and EF 500 f4 L IS lens, sometimes with the 1.4x TC attached (allowing the 500mm lens to function as a 700mm lens).
This brings our March Break 2014 bird photography to a close and we will return to our tour of Europe for the next few posts. In the mean time we are heading into another time of year when there are an abundance of great looking birds fairly close by, including many species of Warblers that are passing through the Oshawa area on their way north country for nesting and breeding. Hopefully we will be able to have a Warbler Blog post this spring!