Horseshoe Bend – Page Arizona USA
The Horseshoe bend in the Colorado River is located just outside of Page Arizona just west of Highway 89.  It is one of the most impressive vistas along the river and has become an iconic image of the Grand Canyon area.  The Bend is reached by a rather short trail of three quarters of a mile, however the soft sand over most of the trail makes for a rather arduous trek and there is absolutely no shelter from the sun, so remember to take lots of water with you.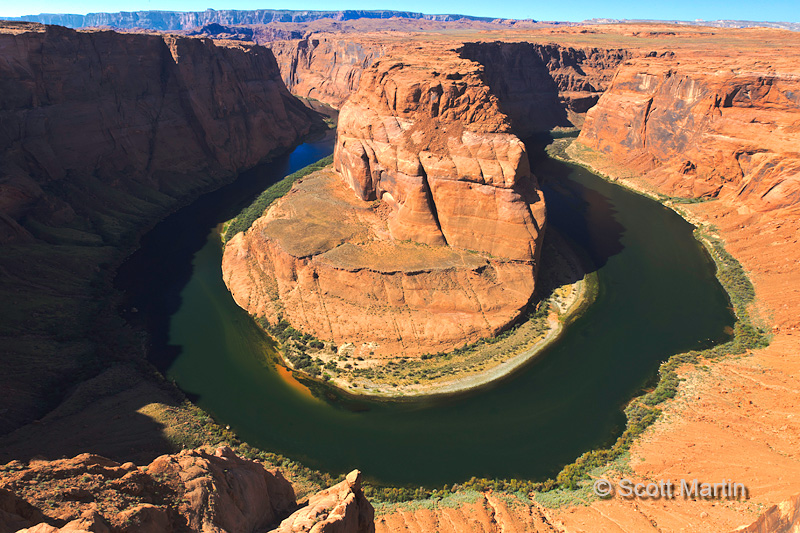 Taking a good picture of the bend is not done without a little fear and trepidation as the rim is over 1000 feet above the river and in order to keep the entire river in the frame the camera needs to be right on the brink.  I set my tripod up as low as possible and crawled the last few feet to the brink on all fours.  Once you peak your head over the edge its an awe-inspiring sight; Gods great handiwork right before for eyes!  The image above was taken at a focal length of 16mm and is a single image.  I have a number of panoramic images of the area which I may post later.
A couple of miles upstream from the Horseshoe bend is the Glen Canyon Dam, which is bigger than its more famous down stream cousin, the Hoover Dam, located  just outside Las Vegas, Nevada.  The Glen Canyon Dam is 710′ high and 1560′ wide and over 300′ thick at the base.  The reservoir it created is Lake Powell, the second largest artificial lake in the States.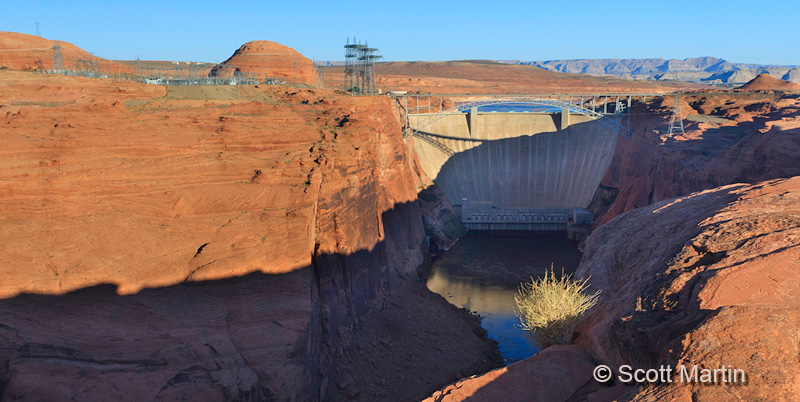 The Glen Canyon Dam was constructed between 1956-1966 while the Hoover Dam was built from 1931-1936.
We were visiting the dam mid-morning after hiking to the Horseshoe bend for sunrise. This created strong shadows across the face of the dam which results in poor images, however here is an attempt to make an artistic shot of a hydroelectric dam.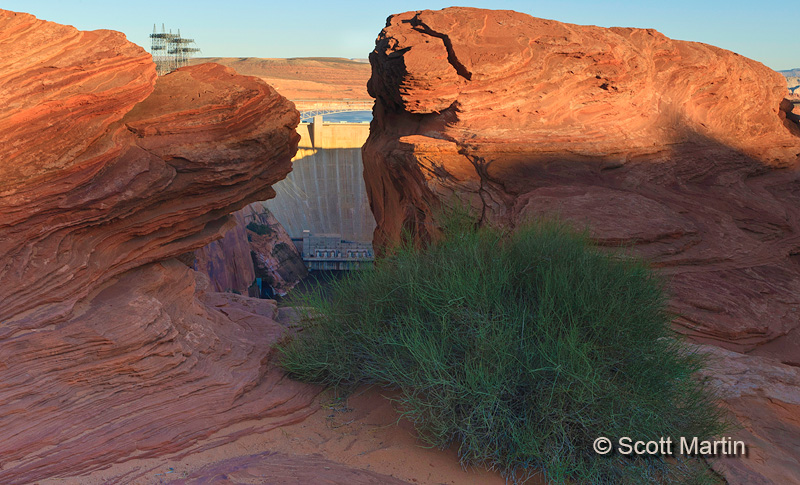 Page AZ is also known for the Antelope Slot Canyons, which are a must see when in the area.