Some Recent Birds
Well, as it is for everyone, time slips by at what seems like an ever increasing pace and we find ourselves already into February while Christmas feels like it was only yesterday. It's also been over a month since our last blog post and although I have a number planned for the upcoming months, there just hasn't been enough time to prepare them, so I thought I would post a few quick bird images taken over the last month or two.
Before Christmas I spent a morning at Lynde Shores Conservation Area with Joe & Harv, two wonderful photographers who I've known for many years and have learned much from when it comes to capturing great bird photographs. We had a terrific time kibitzing, telling stories, arguing over camera gear and even taking a few pictures in the process. The images that follow are a few of them.
Deb's favourite bird is probably the Black Capped Chickadee (BCCH) and I never tire of trying to get a good picture of one. They are extremely cute and friendly little birds that dart from branch to branch and follow you along through the forest paths and readily landing on your hand if it contains some black oiled Sunflower seeds.
From a technical perspective, the close proximity of blacks and whites on the Chickadee presents an exposure challenge. How do you preserve the details in the whites without underexposing the blacks and how do you expose to see detail in the blacks without blowing out the highlights in the whites? The short answer is that you can't, especially in strong light. An overcast sky is your best friend in cases like this! Personally, overexposed whites that present as white areas with no visible detail ruin pictures more than anything else, so my rule of thumb is to always expose for the whites and if needed improve the dark areas in post processing (this is another reason to always shoot in RAW format as doing so provides about 3-4 stops of exposure adjustment on the computer).
Compositionally, practice taking shots in both landscape and portrait orientations. This is easy with birds like Chickadees that will allow you to get close to them and provide you the privilege of 'cropping in the camera'. When getting this close make sure you move your focus point to allow for proper positioning of the bird in the frame. There is nothing worse that being treated to taking full frame images of a bird in portrait orientation only to find you've placed the bird in the middle of the frame and have no margins left for cropping on the computer. With today's high megapixel camera sensors, you may be happy to shoot everything in landscape orientation and simply crop for portraits later but doing so always costs by way of reduced detail.
The following four images show two portrait and two landscape images with the bird facing in opposite directions for each similar orientation. If you make a practice of getting these different views in the field, you can be relatively certain of getting some good 'keepers' every time out.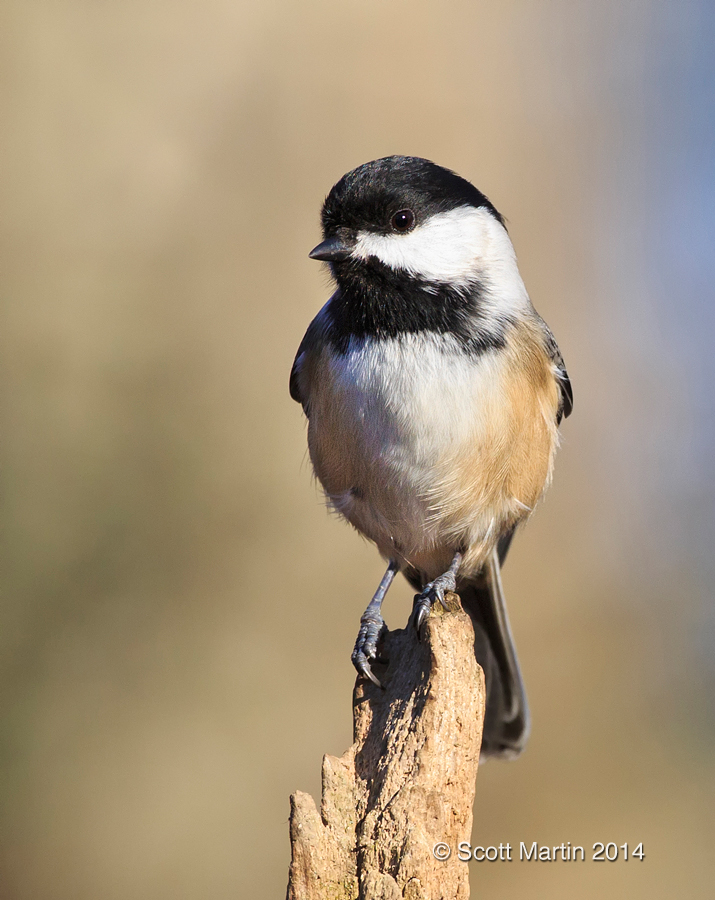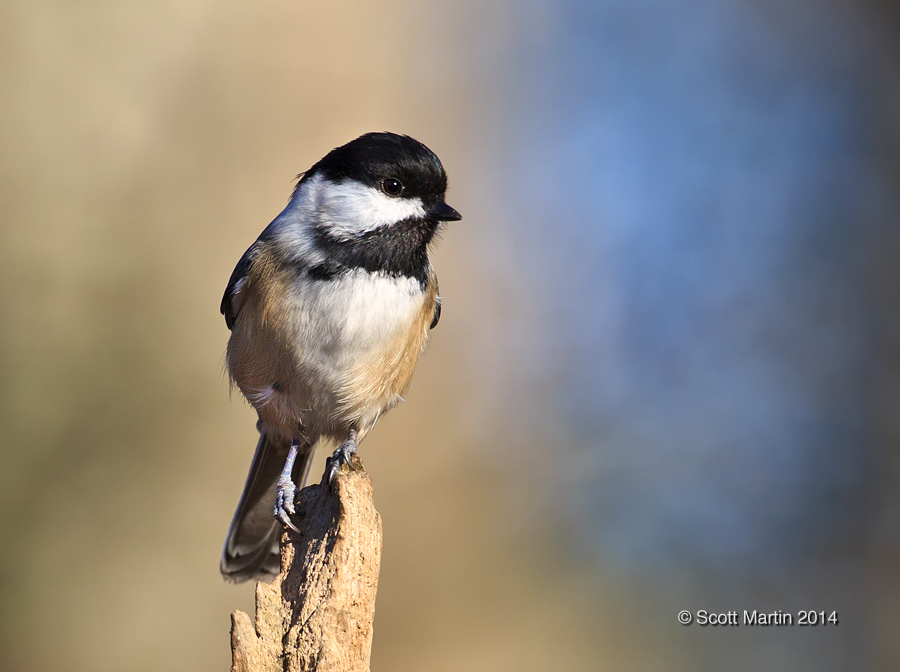 In the same family of birds as the Chickadee we find the White-breasted Nuthatch (WBNU), which happens to be my Mom's favourite bird.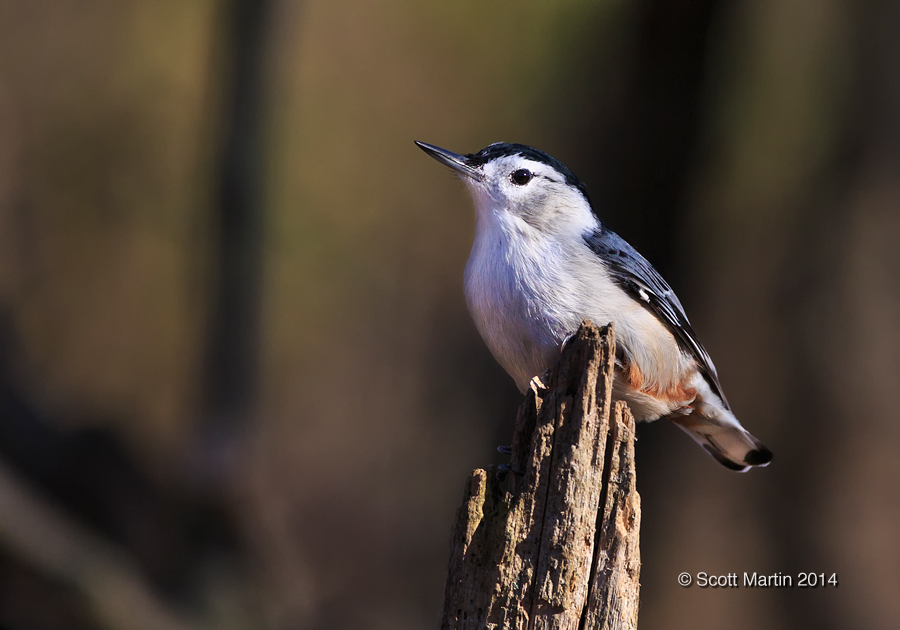 They are known for spending most of their time upside down on three trunks. In fact you may not recognize the bird when perched as it is above, but it certainly looks more familiar in the next two images as that's the way we see them most often.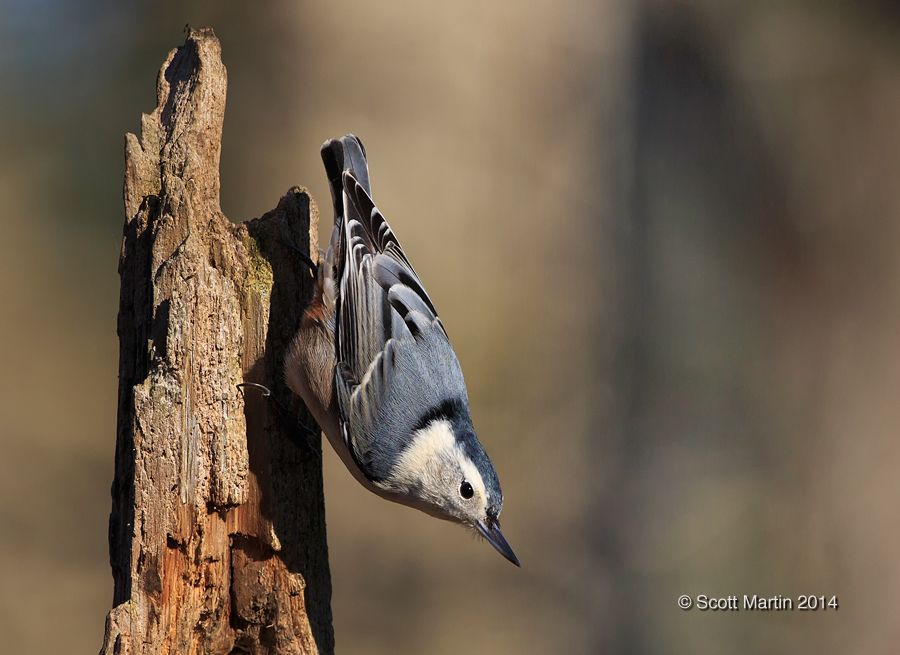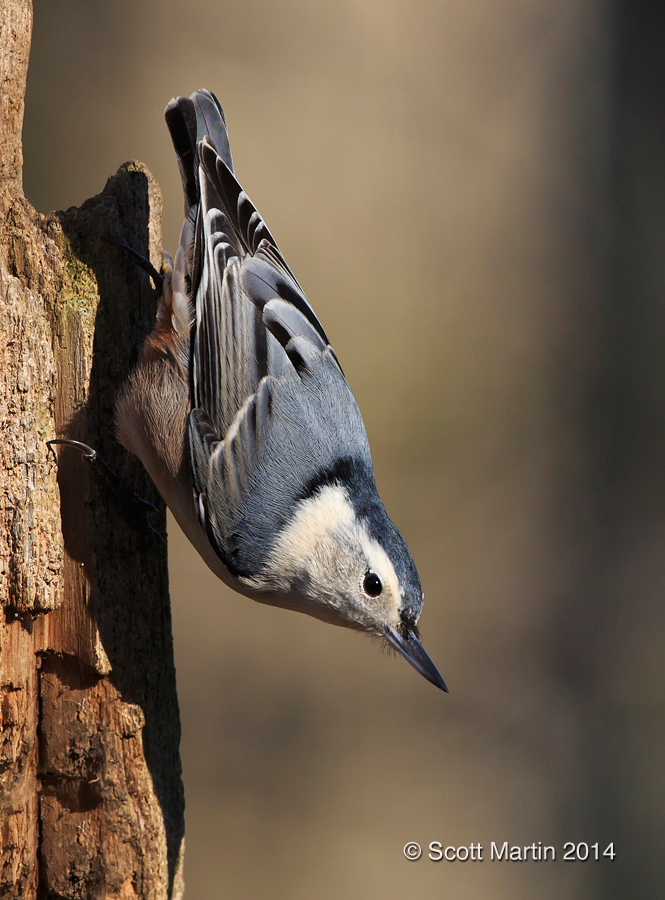 They look very different when foraging for bugs the way the other birds do as seen below.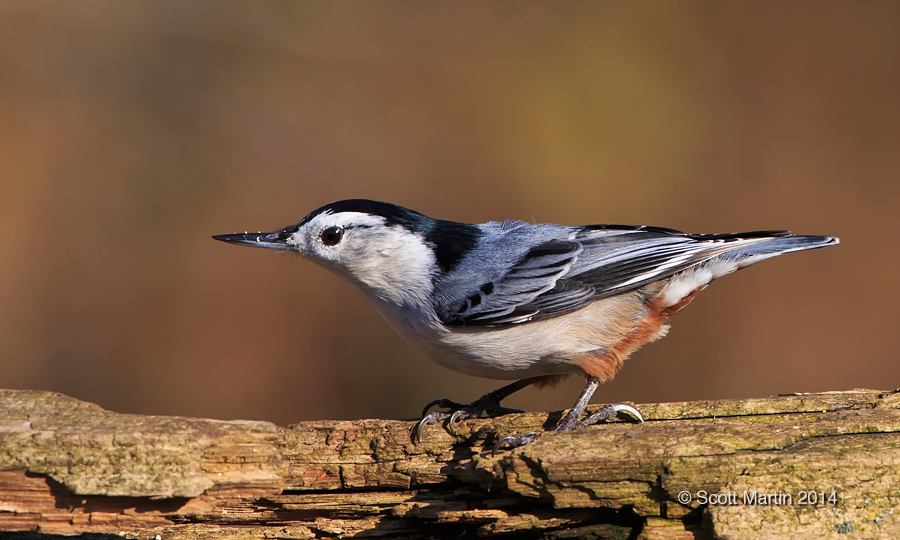 Another friendly bird in our area is the Blue Jay (BLJA) which will gladly take peanuts from your hand. Their brilliant blues and superb primary wing feather patterns also make them very photogenic. The first two Blue Jay images are very similar portraits however the first is a much better photograph due to the more natural appearing body shape of the bird (the disproportionately wide neck in the second created by the forward posture of the head is distracting). Also the dark back ground along the lateral edges of the first frame provides a natural vignette effect which is pleasing. It's enjoyable to be able to choose from a number of similar images to pick the best one and this can only happen by taking lots of images!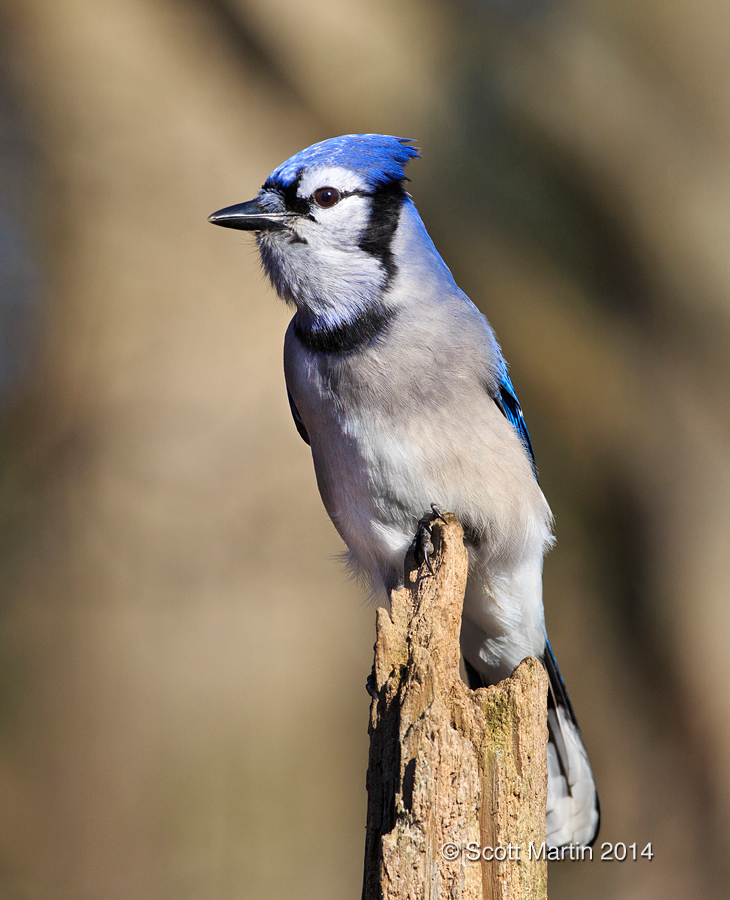 The beautiful blue, white and black feather patterns of the Blue Jay.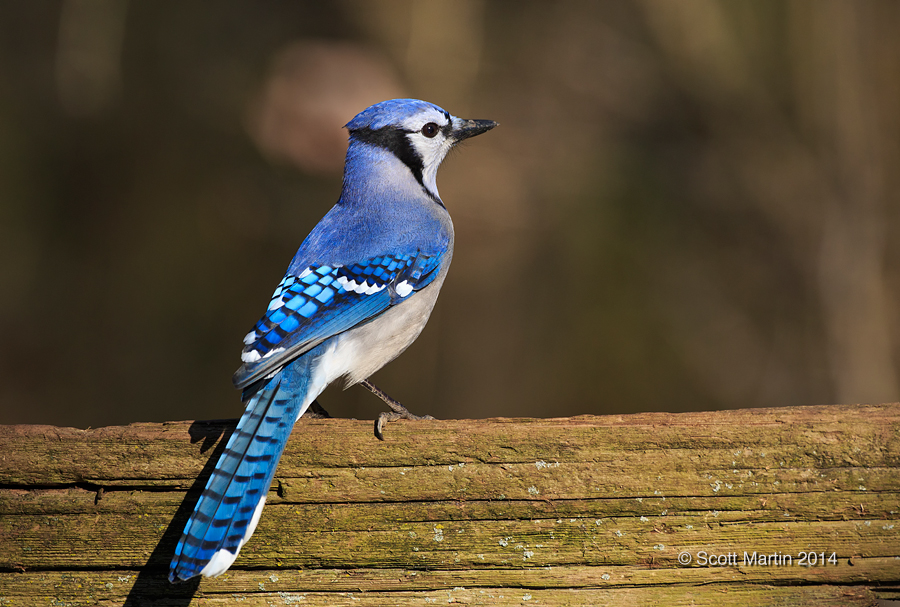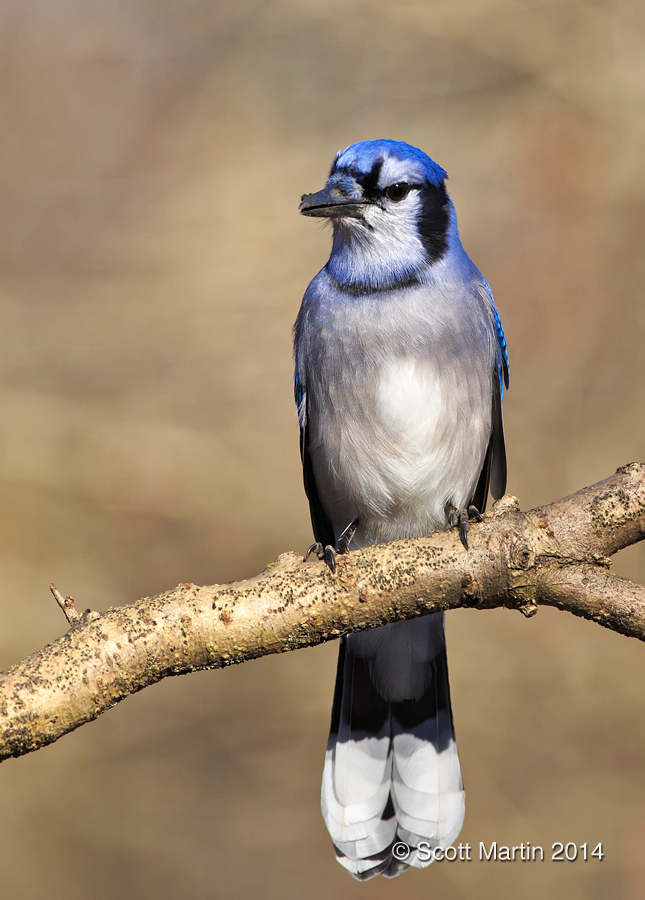 The Blue Jay gets its vibrant blue hues as light is refracted when passing through the unique structure of its feathers and not from blue pigments in the feathers as most presume. The next time you find a Blue Jay feather on a trail, crush it up with your hand and watch the blues turn grey as you alter the structure of the feather and hence the refractive properties of the feather. You will be surprised!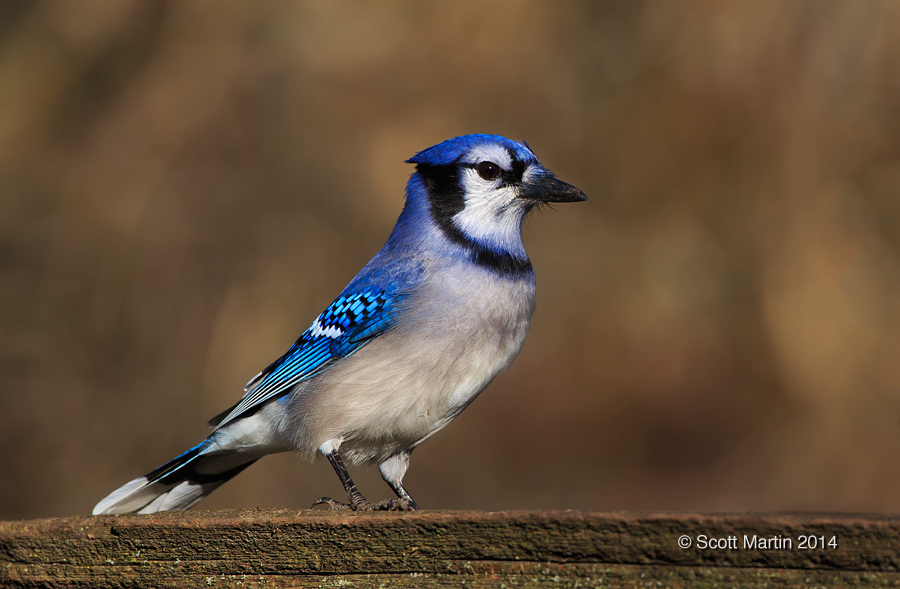 This Red-bellied Woodpecker has been a popular resident at Lynde Shores for a while now, however this was the first time I've been able to photograph this beautiful bird. This first image shows the characteristic red belly from which it gets its name.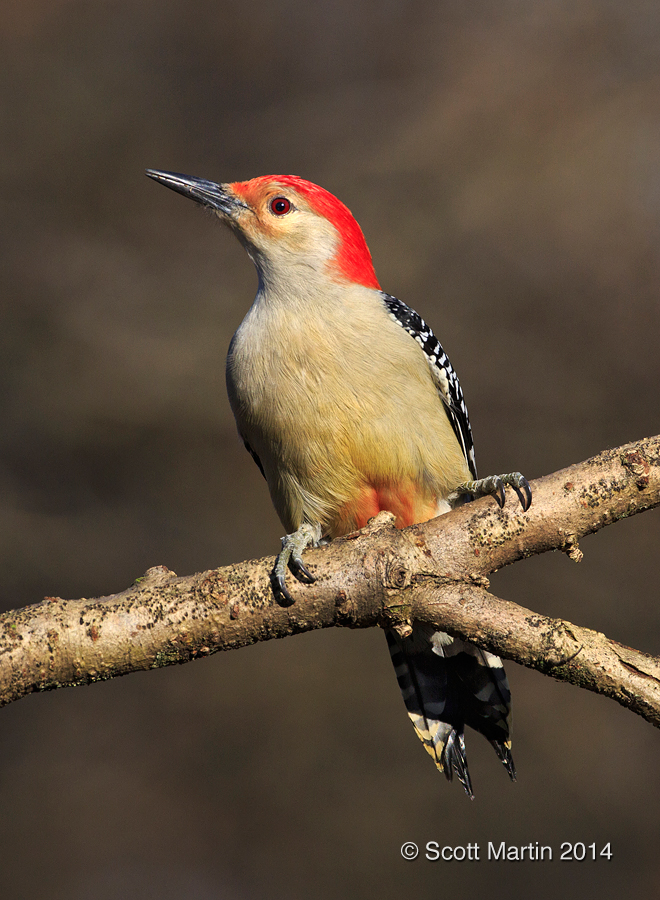 The male and female of this species are similar other than the cap, the male has a red cap while the female's is grey. These images are of the male.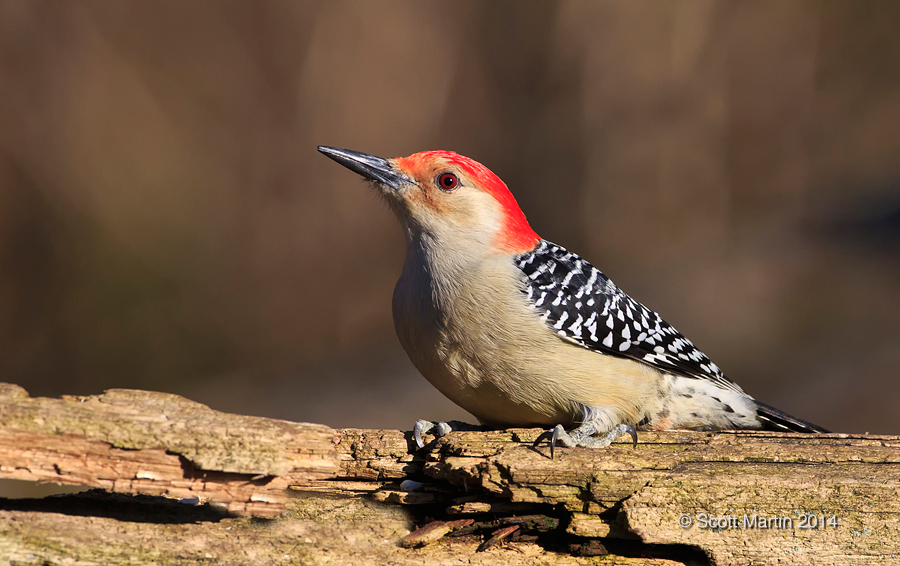 Interestingly, the males forage on tree trunks while the females prefer the tree limbs. Males also have longer beaks and wider tongues than females.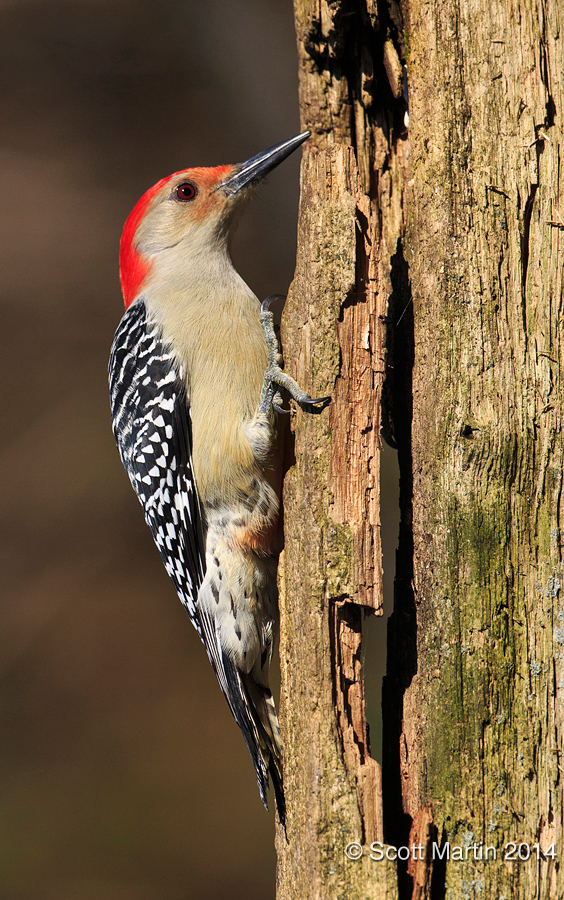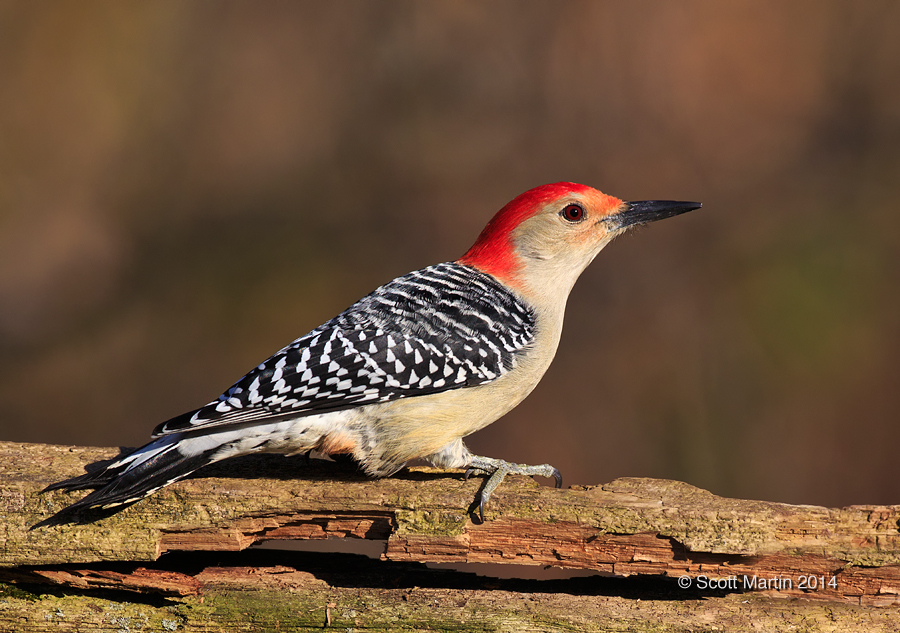 The Red-bellied Woodpecker is near the northern limits of its normal range so we don't often get a chance to see them around the Durham region .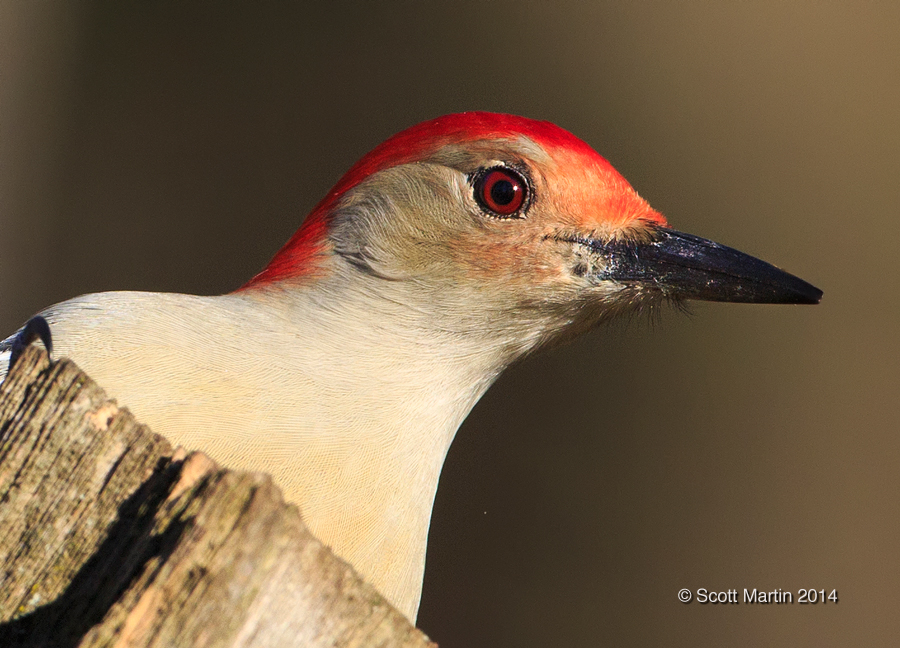 The darker brown eye of this bird indicates that it is an adult.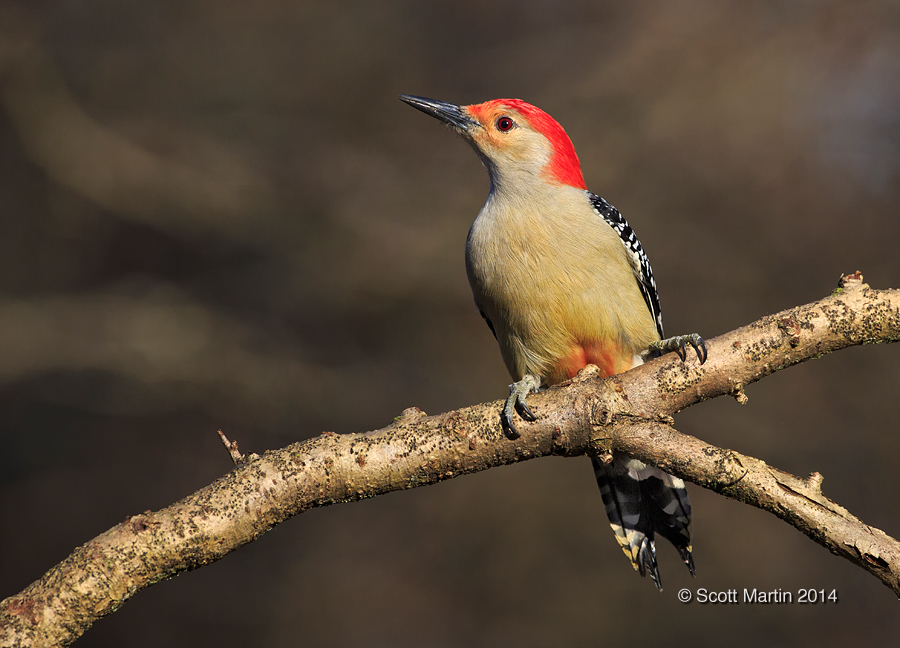 Now that winter is upon us, bird photographers often turn their attention to owls, especially the Northern Owls (i.e., Great Grey, Snowy and Northern Hawk Owls) that will often get displaced southwards from their Arctic breeding grounds when food supplies are scarce. The environmental situations that arise to force more owls south tend to become acute about every eight to ten years. These years during which a disproportionate number of a given owl species arrives this far south s known as an irruption. This winter is an irruption year for Snowy Owls with many being found in Southern Ontario. So the goal this winter is to get some great images of the Snowy Owl. Unfortunately it hasn't happened yet although we've been out looking a couple of times!  The following two images were taken just after Christmas and are both cropped images taken at a distance of about 70 yards…..much too far away for a good image.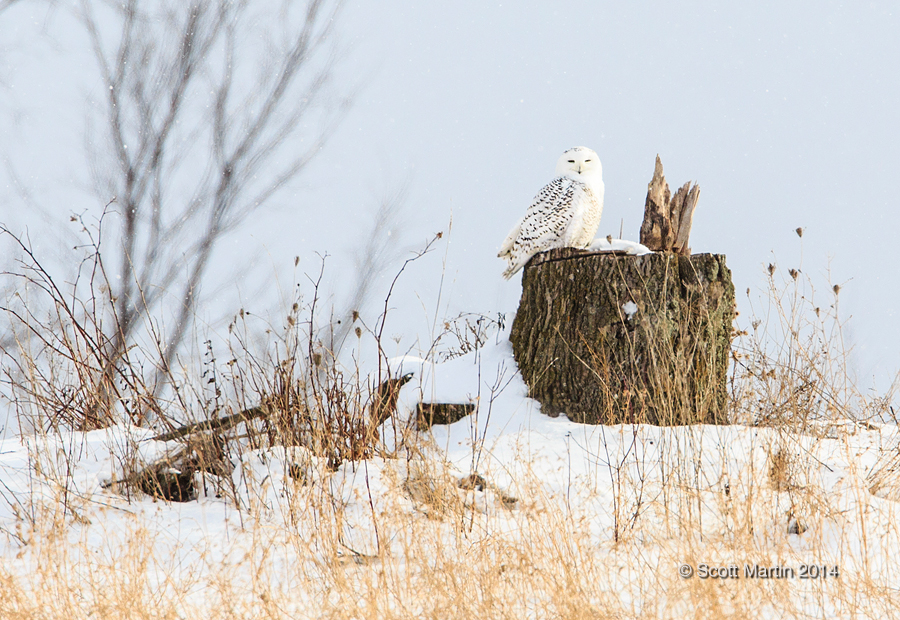 The most enjoyable part of this day, during which we traveled about 400km and saw ten or twelve different Snowy Owls was that were joined by our friends Arni & Dianne. So the times we spent standing out in the very sub-zero temperatures were off set by lunch in Angus and hot chocolate and coffee at Arni & Dianne's place.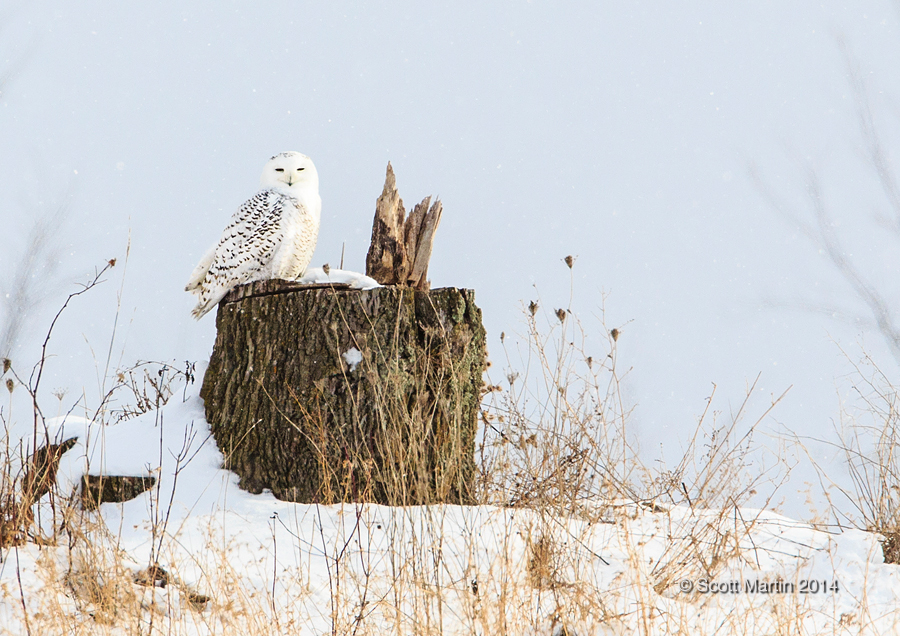 This past Friday Deb & I spent another day travelling around looking for Snowy Owls and although we saw one owl, there were no photo opportunities. That's the nature of wildlife photography but it's always fun to get a day out enjoying creation. Our day was cut short by the weather as an intense snow storm hit while we were travelling from Minesing to Orillia, forcing us to head south on HWY 400 to get out of the storm and head home. Here is a short clip of the snow we found while out looking for Snowy's 🙂
Sometimes, when you take the time to scout out the perfect location, place a unique looking perch where the lighting is perfect and there is great separation from the background and you've created the ideal outdoor studio for bird photography, other 'models' come along with well groomed manes to show off their best poses for the camera…..always make sure you oblige them!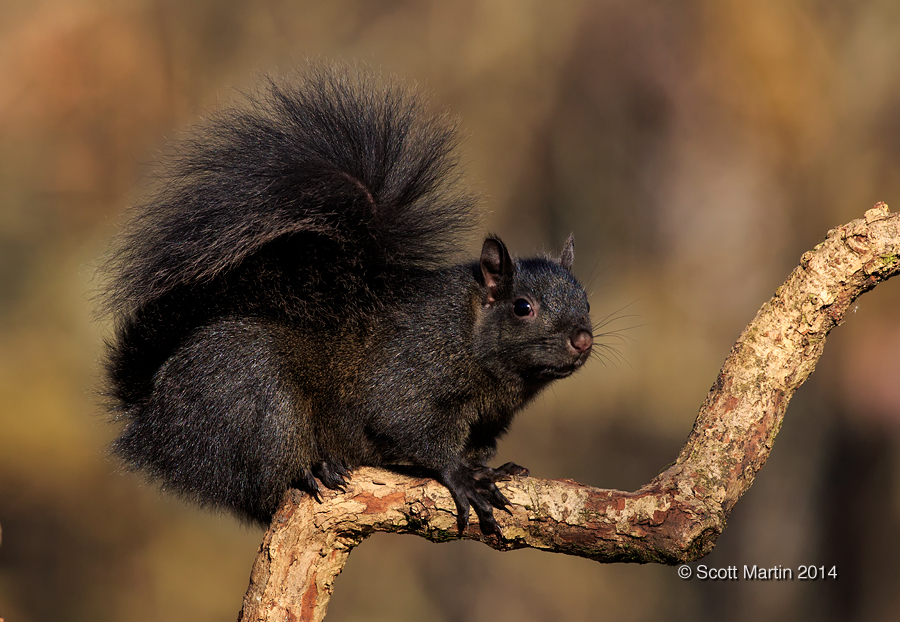 All the images in today's post were taken with the Canon 5D Mk III body and Canon EF 500mm f4 L IS lens (the Snowy Owl images also used the 1.4X TC to provide 700mm). The video clip was taken with an iPhone 6.